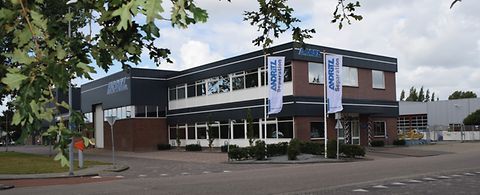 ANDRITZ B.V.
Your trusted center for repairs and upgrades – now with hands-on training!
Complete service means enhanced performance
The ANDRITZ centrifuge repair center in Den Helder is a well-established go-to for repairs – we have repaired more than 700 decanter rotating assemblies in the past 20 years. And for customers looking to improve their performance by increasing capacity or reducing downtime, our separation specialists provide upgrades to existing equipment as well as brand new machinery. The prompt supply of spare parts, coupled with on-site service, test units, and rental equipment has made the Den Helder service center the first port of call for clients.                                   
Organic growth based on what our customers need
In 1994, Piet Slik opened a service point for Bird Machine Company in Den Helder, Holland's northernmost offshore harbor. Centrifuge owners were impressed with the fast and professional service, and the client base grew rapidly: A fully equipped workshop was opened in 1998 to be able to repair and overhaul complete machines. The workshop has continued to grow steadily over the years and today employs 18 people. The opening of the Service Academy in 2017 expands the range of services offered by providing comprehensive hands-on training for ANDRITZ employees, new customers, and existing clients looking to refresh their equipment training or enhance their operational and mechanical skills.
Gearbox repairs
Despite the fact that planetary gearboxes for decanters are regarded as being strong, reliable, and practically maintenance-free, regular servicing is still needed to ensure a long lifespan. Over time, sediment settles in the gearbox and it is not removed during the regular oil changes. We check your gearbox, test it on a test stand in accordance with our QA sheet, and return it in peak condition.
Capabilities
Machine revisions/repairs
Modifications/upgrades to separation equipment
Reworking/refacing parts such as conveyors, bowls, trunnions, etc.
Gear unit revisions/repairs
 Workshop
Specialized welding equipment for all kinds of (stainless) steel
Special equipment for applying hardfacing
Large lathes, up to 1,800 mm diameter (horizontal and vertical)
Milling & drilling machines
State-of-the-art welding equipment
Balancing machine
Testing equipment
Training classrooms
SERVICE ACADEMY:
Comprehensive training program customized for you!

Whether you are a new customer looking to learn how to maximize the performance of your equipment, an existing client wanting to sharpen your team's skills, or an ANDRITZ employee interested in a refresher course – the Service Academy has just what you need. In addition to classroom-style seminars, in our state-of-the-art workshop you can get your hands dirty by welding and grinding, actually (dis)assembling machines, or using our simulator to simulate process changes.

As a complement to our internal training sessions on different topics and via different tools (classroom, eLearning, practical in-house training at our workshop, etc.), we also offer a full range of training for our customers at the Service Academy or at their own sites.
Enhanced skills add value to your business
Increasing the operational and mechanical skills of your staff is an obvious way to enhance productivity and thereby profitability. But how can you make sure the training is as effective as possible? Through active interaction! By tailoring every training session to your specific needs and making the most of our outstanding workshop facilities, we can ensure that your personnel not only gain a thorough understanding of the processes, but also gather real-world experience in skills such as milling and welding. The benefits range from maximizing performance of the equipment to making your business future-proof, for example by training new operators and thus avoiding knowledge loss. Our approach involves more than just a training session – we give you autonomy, encourage the mutual exchange of experience, share our latest R&D findings, and provide a networking platform. We are your partner!
Who can benefit from ANDRITZ SEPARATION training?
New customers
If you have just purchased new machinery, ANDRITZ training is essential to ensure that you reap all of the benefits of your high-quality separation equipment from day one. The better your operators understand the processes and mechanics, the more efficient your production will be. By giving your people the skills and knowledge they need to correct or prevent problems before they occur, you can reduce downtime and extend the lifetime of your equipment.
Existing customers
Our highly interactive training approach is ideal for customers who are already using ANDRITZ equipment. Not only can your staff refresh their skills and knowledge of how the equipment works in hands-on training, they can also share their experience and benefit from our latest R&D findings. The majority of our product developments evolves from listening to our customers and working on their specific needs, and the ANDRITZ training is a great opportunity for us to also learn something from you.

ANDRITZ B.V. | Den Helder