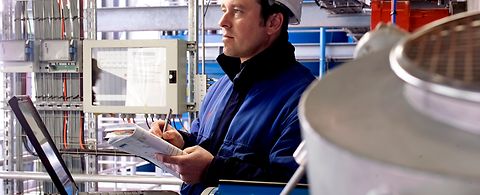 Process optimization
Process monitoring, improvement, and training for optimal efficiency in plant operations
Whatever your solid/liquid separation equipment or system, there's a tailored process or control solution that can reduce operational costs and improve performance, safety, and product quality. At ANDRITZ SEPARATION, we have the expertise to appraise your process, support or execute R&D projects, and to modernize your automation.

With our worldwide network of process experts and automation engineers, we can provide plant audits, local or remote services, upgrades, and optimizations. ANDRITZ can satisfy the complete range of your process needs during the lifetime of your assets. All scalable from single machines up to plant-wide installations, efficiently executed by a single supplier, and always individually tailored to your business demands.
SmartSIM simulation based operator training
ANDRITZ SmartSIM is a computer-assisted classroom training course, which can be used at any time without affecting actual plant operation. The working principle for this training is simple: Using the original operating interface, trainees can control a digital twin of your machine, including the individual parameters of your production operations. Get more information!
Metris addIQ control systems – Intelligence for machine and process control
Is your business the best it can be? Perhaps you have untapped potential to reduce production losses and maximize availability, or maybe you're specifically looking to reduce downtime? Even with the best equipment, there is always room for improvement in performance, productivity, and profit. Metris addIQ control systems deliver all three. 
Adding value with Metris addIQ control systems
Enhance availability and minimize production costs
Increase overall equipment efficiency and reduce risk of operational errors
Analyze and optimize processes with data collection
Global automation specialist network providing local service
Scalability of solutions
Production transparency via mobile app access

Take advantage of our 150 years of OEM experience gained from an installed base of more than 55,000 machines. Let our global team of solid/liquid separation specialists help you improve safety, reduce costs, and save on power – for a vast number of well-known OEM brands.