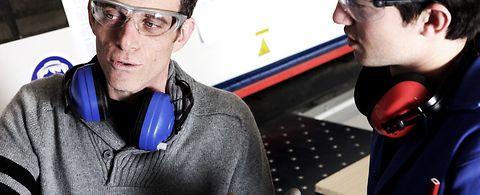 Tailored training programs and seminars
for operating and maintenance personnel
Even with the world's best equipment, there's always room to improve performance, reduce downtime, and enhance safety. With specialized training from the OEM experts at ANDRITZ SEPARATION, we're here to provide all the know-how you need to get more from your machines.

Whether you're looking to optimize operation, improve maintenance and inspection, implement new safety measures, or automate new processes, our training programs and seminars are tailored to your demands. Complete with best practices and handson examples, our experts are available to provide individualized advice. Give your new and existing operators and maintenance personnel the specialized training they need to maximize your machine's operation.
SmartSIM simulation based operator training
ANDRITZ SmartSIM is a computer-assisted classroom training course, which can be used at any time without affecting actual plant operation. The working principle for this training is simple: Using the original operating interface, trainees can control a digital twin of your machine, including the individual parameters of your production operations. Get more information! 
Take advantage of our 150 years of OEM experience gained from an installed base of more than 55,000 machines. Let our global team of solid/liquid separation specialists help you improve safety, reduce costs, and save on power – for a vast number of well-known OEM brands.