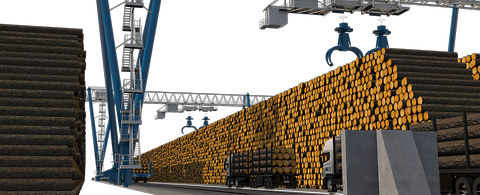 ANDRITZ to supply Logyard Crane Simulator to Metsä Fibre
ANDRITZ Wood Processing has received an order from Metsä Fibre bioproduct mill project in Kemi, Finland to supply the world first ANDRITZ SIM600 Logyard Crane Simulator. The delivery also includes start-up and customer training services. Planned start-up of the simulator is in September, 2022.
The Logyard Crane Simulator has a very important role in logyard crane operator training and start-up. Furthermore it has an essential role in keeping up the operators' skills during the autonomous logyard operations.
Metsä Fibre is a leading producer of pulp, biochemicals, bioenergy and other bioproducts. Planning of the new bioproduct mill is based on a high level of environmental efficiency as well as efficiency in terms of energy and materials used. The mill will not use any fossil fuels at all, and its electricity self-sufficiency rate will be 250%. The Kemi bioproduct mill will produce 1.5 million tons of softwood and hardwood pulp a year. The new mill will be started-up at Q3/2023.
Read more from the news about logyard crane agreement with Metsä Fibre.