On the way to green steel production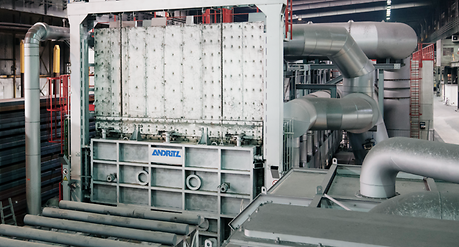 More technology
ANDRITZ has developed a new type of furnace with a series of technological improvements for voestalpine Wire Rod Austria GmbH in order to make heat treatment in wire rod production more efficient and more sustainable.
Lower CO₂ emissions
The furnace is entirely electrically heated and does not cause any local greenhouse gas emissions from fossil fuels. In addition, up to 25% of the process energy input compared to conventional burners can be saved. A step towards green steel production.
The European steel industry is undergoing a technological revolution. It intends to break free from fossil fuels and also produce and process CO₂-neutral steel by 2050. With a new furnace design, ANDRITZ is already contributing today towards saving energy and reducing emissions.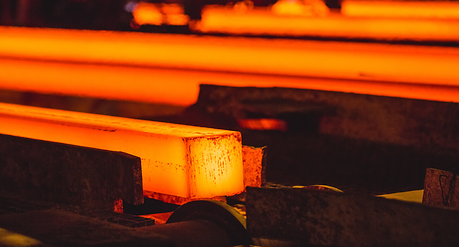 Donawitz, a district in the city of Leoben in Styria, has been making a living from iron ore for almost an eternity. Iron was also produced from the iron ore here 500 years ago. On an area the size of 21 soccer fields, voestalpine Stahl Donawitz GmbH, located in Donawitz, annually produces 1.65 million tons of high-grade steel that is used to make products for rail production, mechanical engineering and the automotive industry, for example.
voestalpine Wire Rod Austria GmbH has demanding customers, who require top quality and tightest tolerances combined with maximum flexibility. That's why there is considerable motivation to make the production process more efficient and also more sustainable. In parallel to this, there is a huge challenge to overcome: the step-by-step transition in technology to achieve CO₂-free production by 2050.
"Heating with electricity is generally more efficient than heating with fossil fuels."
No emissions, lower energy consumption
With a new plant design to homogenize steel, ANDRITZ has been helping voestalpine Wire Rod Austria GmbH on one leg of this journey. In steel production, homogenization means the process to provide the raw material with consistently high quality. To put it simply, the steel is heated to a temperature that gives it a homogeneous microstructure at the atomic scale. "We can look back on many years of successful collaboration with ANDRITZ on different projects," Axel ­Grabmeier, voestalpine Wire Rod Austria GmbH, describes how this collaboration came about. "Due to this experience and the innovative, new design as an alternative to the classic hood-type furnace, ANDRITZ was awarded the order."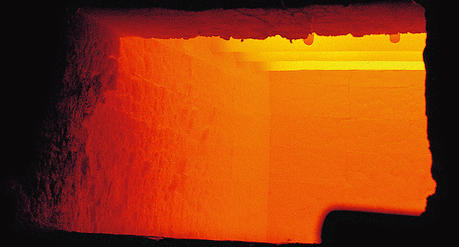 ANDRITZ designed and built a huge chamber furnace with a chamber volume of more than 100 cubic meters. It can heat dozens of 18-meter-long steel billets homogeneously to 1,200 °C and then cool them down again – in one and the same chamber. The design has various advantages: The unit is heated entirely by electricity, meaning that there are no gas burners used and thus no direct CO₂ emissions are caused. In addition, the furnace uses up to 25% less process energy compared to furnaces operated with conventional burners. Furthermore, it is operated with a special cover gas that protects the edges of the steel billets against decarburization. Hence, there are no large amounts of metallic scrap. And finally, the energy to be discharged during the cooling process is stored in a hot-water loop and used for other processes in the mill.

"We can look back on many years of successful collaboration with ANDRITZ on different projects."
Axel Grabmeier, voestalpine Wire Rod Austria GmbH
Efficient and economical
"The approach with 100% electric heating enables us to heat without using natural gas," Gunter-Franz Korp underlines. "Using green energy is our top priority. voestalpine Wire Rod Austria GmbH only purchases certified green electricity that is generated sustainably." This has a favorable impact when it comes to CO₂: "Heating with electricity is generally more efficient than heating with fossil fuels. In terms of emission categories, operating this type of furnace provides significant savings in direct CO₂ emissions that would have been produced by fossil fuels," says Gunter-Franz Korp. 
"ANDRITZ supports the steel industry on the road to producing CO₂-neutral steel."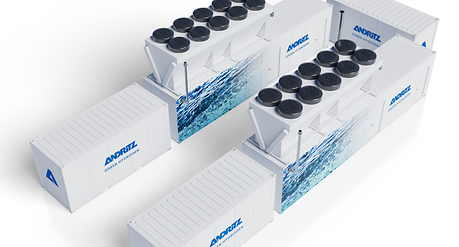 The furnace is an important element in the long-term goal of decarbonization in steel production. More and more companies are planning to produce CO₂-neutral steel in the future with the aid of green hydrogen, and this gas is also seen as an energy carrier of the future in other branches of industry. The Hydrogen Council for example, a global initiative by leading companies, expects production of green hydrogen to increase from 0.7 million tons a year in 2020 to 300 million tons in 2050. In addition, the European Union is promoting further development of innovative hydrogen technologies as part of the Green Deal. ANDRITZ is actively accompanying and shaping this development – as a supplier of electrolyzers to generate green hydrogen from renewable sources like wind, solar or hydroelectric energy, as a manufacturer of systems for highly automated fuel cell production, or as a partner for new burner solutions (H2-ready or electric). The transition is in full swing. 
Read more success stories ...