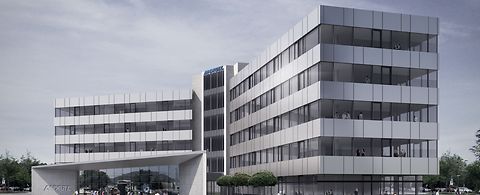 ANDRITZ AG, Graz
The headquarters of the international ANDRITZ GROUP supplies technologies and services for all business areas.
The cornerstone of today's international technology Group ANDRITZ was laid in 1852 when a small iron foundry was set up by the Hungarian entrepreneur Josef Körösi in Andritz, a suburb of the city of Graz, Austria.
Today, with its approximately 1,200 highly qualified employees, ANDRITZ AG in Graz supplies technologies and services for all of its business areas.
In close cooperation with the customers, continuous development of new technologies takes place in R&D facilities and pilot plants.
The manufacturing department with a total area of 95,000 m2 produces and assembles components for about 90 different products for the Hydro, Pulp & Paper, Separation, and Metals business areas, and also carries out repair, rebuild and field installation work. In its own apprenticeship workshop ANDRITZ educates young skilled workers.
ANDRITZ contributes substantially towards creating economic value locally and is very important for Graz as a business location because it creates or safeguards jobs in the region, both in the company itself and indirectly through its cooperation with numerous local suppliers.  
The company has close links to research institutions and is a member of industrial and environmental clusters. In June 2017 ANDRITZ became a part of the Green Tech cluster and is thus strengthening the Province of Styria as a hotspot for innovative energy and environmental technology. Within the cluster, ANDRITZ is seeking to promote digital initiatives and cooperation with start-ups.