Middle Bhotekoshi
Electromechanical equipment for a hydropower project in Nepal
In 2014, ANDRITZ HYDRO signed a contract with Madhya Bhotekoshi Jalavidhyut Company Limited to deliver electromechanical equipment for the 102 MW Middle Bhotekoshi hydropower plant in Nepal. MBJCL is a subsidiary company of Chilime Hydropower Company Limited, a branch of Nepal Electricity Authority (NEA).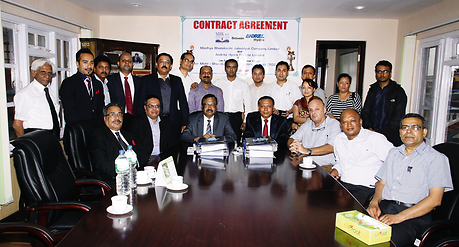 The Middle Bhotekoshi hydropower plant is located in the Central Development Region, Bagmati Zone, in Sindhupalchowk District, Nepal. The run-of-river power plant combines a capacity of 102 MW with a designed discharge of 50.8 m3/s and an available gross head of 235 m. At the moment HPP Middle Bhotekoshi is the third largest hydropower project under construction in Nepal.
Awarding of the contract for the prestigious Middle Bhotekoshi hydropower plant followed an international bidding procedure, in which all major global manufacturers of electromechanical equipment took part. During bid evaluation ANDRITZ HYDRO convinced the customer of its techno-commercial solution and could sign the contract in July 2014.
ANDRITZ HYDRO will supply all the three vertical 35 MW Francis turbines with digital speed governors, three spherical inlet valves, three generators with static excitation systems, digital protection system, computerized supervisory and control (SCADA) system, single phase 220 kV power transformers, as well as the gas-insulated switchgear (GIS) and electrical and mechanical auxiliary systems.
After completion, the Middle Bhotekoshi hydropower plant will supply about 542.3 GWh of electricity into the national grid per year. The project is scheduled to be completed within two years and nine months.
The award of this contract reinforces ANDRITZ HYDRO's leading position in Nepal as a reliable partner in developing hydropower.
TECHNICAL DATA
| | |
| --- | --- |
| Output: | 3 x 35 MW / 3 x 40.35 MVA |
| Voltage: | 11 KV |
| Head: | 222 m |
| Speed: | 500 rpm |
| Runner diameter: | 1,340 mm |