Austria - Grünsee and Greith
In early March 2015, the 811 kW turbine at Grünsee hydropower plant was officially commissioned and started commercial operation.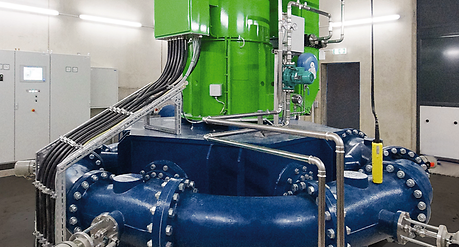 Less than a year earlier, in July 2014, ANDRITZ HYDRO received a contract from KW Grünsee GmbH to supply a vertical, six-nozzle Pelton unit for HPP Grünsee in the province of Styria.
In August 2014, ANDRITZ HYDRO received an order from Greither Wasserkraft GmbH for the delivery and installation of a horizontal, three-nozzle Pelton turbine at HPP Greith located in the neighbor valley of HPP Grünsee. The equipment was put into operation at the end of August 2015.
Both schemes are run-of-river power plants with intakes equipped with Coanda screens and penstocks made of GRP-pipe. The Pelton turbines are equipped with butterfly inlet valves and are connected to 400 V generators.
Technical data
| | |
| --- | --- |
| Grünsee: |   |
| Output: | 811 kW |
| Head: | 80.1 m |
| Speed: | 500 rpm |
| Runner diameter: | 705 mm |
| Greith: |   |
| Output: | 353 kW |
| Head: | 150.9 m |
| Speed: | 1,000 rpm |
| Runner diameter: | 500 mm |