ANDRITZ HYDRO events in 2015
ANDRITZ HYDRO participated and organized several events in 2015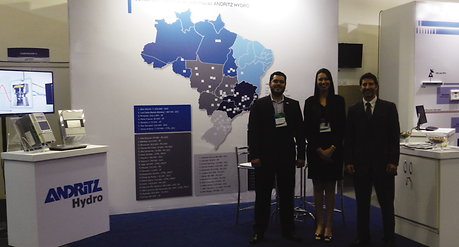 Brazilian events
In 2015 ANDRITZ HYDRO was successfully present at numerous exhibitions and trade fairs in Brazil, of which two were major events.
In August 2015, ANDRITZ HYDRO attended the XI SIMPASE forum in the city of Campinas, São Paulo, with a booth and presented a paper about cyber security in automation and control networks. The forum provides an excellent place for the exchange of experience of automation systems.
During the XXIII SNPTEE in October 2015, in Foz do Iguaçu, Paraná, ANDRITZ HYDRO presented its products and solutions portfolio for new hydropower plants and modernization projects.
ANDRITZ HYDRO participated also with a booth and took part in the seminar with five technical papers, considering the interaction between production and transmission of electricity.
HydroVision 2015, Portland - USA
HydroVision 2015, the international hydropower conference and exhibition, took place in Portland, Oregon, from July 14 – 16, 2015.
Once again ANDRITZ HYDRO served as Gold Sponsor for the conference allowing its brand to be front and center in multiple places throughout the conference facility, including the registration desk, the conference delegate bags, the opening reception and the golf tournament and, of course, with its impressive booth display.
On July 15, 2015 ANDRITZ HYDRO hosted many customers, consultants and friends at ANDRITZ HYDRO NIGHT, held at the beautiful Ponzi vineyard. The guests enjoyed majestic views, including a beautiful sunset, while enjoying a wonderful selection of food and great musical entertainment. The customer appreciation event has become a much anticipated highlight for customers and colleagues.
All-in-all HydroVision 2015 proved once again to be a valuable resource for strengthening ANDRITZ HYDRO's brand in the hydropower market in the United States and highlighting its ever-increasing range of services.
Supplier and Service Provider of the year
ANDRITZ HYDRO wins Indonesian award
During the annual supplier gathering of PT. Pembangkitan Jawa-Bali (PJB) in May 2015, ANDRITZ HYDRO Indonesia was awarded first place in the category "Supplier and Service Provider" for the year 2014.
PJB is a subsidiary of PT. PLN (Persero), the state-owned electricity utility of Indonesia, operating plants such as HPP Cirata (1,008 MW), HPP Tulungagung (36 MW) and HPP Sengguruh (32 MW). The annual gathering aims to strengthen the relationship between PJB and its suppliers.
ANDRITZ HYDRO Indonesia has always been among the top 10 suppliers and service providers. This time the excellent performance and compliant handling of the contracts, as well as dedicated work of the project team during 2014, convinced PJB to award ANDRITZ HYDRO first place out of a field of more than 80 suppliers and service providers assessed for the prize.
This award is an outstanding achievement and ANDRITZ HYDRO Indonesia will strive to continue providing excellent services to all of its customers for the benefit of the people of Indonesia.
Customer Day Tbilisi, Georgia
ANDRITZ HYDRO has been highly successful in the Georgian market, winning several projects in recent years.
To further strengthen its role as a leading system provider for electro-mechanical hydropower equipment in Georgia, a "Customer Day Georgia" was held for the third time in Georgia's capital Tbilisi in June 2015.
Georgia currently produces 75% of its electrical energy (2,700 MW) from hydropower, with plans to raise this share to a full 100% in the future. In view of these medium- and long-term goals, and inspired by the excellent experience and feedback from the previous two Customer Days, the third edition of the "Customer Day Georgia" once again was a great success.
It was attended by 150 participants representing all ANDRITZ HYDRO partners in the Georgian hydropower market, including local customers, officials from the energy ministry, project developers, planners, and experts from engineering offices and financial institutions. Deputy Minister of Energy, Ilia Eloshvili, opened the Customer Day with a keynote speech.
The central part of the event was dedicated to customers reporting on their current project experience with ANDRITZ HYDRO in Georgia. Specialist lectures on the topics of new facilities, small hydropower, automation, and financing underscored the wide range of ANDRITZ HYDRO's product and service portfolio and emphasized its role as a leading system provider for electro-mechanical hydropower equipment in Georgia.