Ashta 1 & 2 - Take-over of world's largest HYDROMATRIX® plant in Albania
After the inauguration of HPP Ashta 1 on 18 September of last year and the start of the commercial operations for Ashta 1 & 2 by the end of 2012, Energji Ashta, a joint venture of VERBUND Hydro Power AG and EVN, has issued the "Taking Over Certificate" for Ashta 2 on 20 June 2013 and subsequently taken over the entire Ashta plant.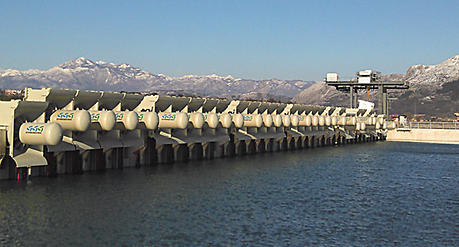 The timely and successful taking over of the world's largest HYDROMATRIX® plant brings the ambitious and fast paced Ashta project to a successful end. The two plant stages are located at the Drin River near the city of Shkodra in Albania. Each one of them features 45 turbine-generator units with a total capacity of 53 MW. ANDRITZ HYDRO supplied the HYDROMATRIX® – turbine generator units, the hydraulic steel structure, the medium voltage equipment and the control system. During the last months ANDRITZ HYDRO´s site personnel and engineers field-tested and optimized the joint plant control system, which allows the fully automated operation procedure of both stages in close cooperation with the upstream HPP Vau I Dejes. The performance tests verified that the guaranteed values exceeded the contractual requirements of the turbinegenerator units in Ashta 1 as well as in Ashta 2 significantly.

The first half year of commercial operation of HPP Ashta 1 and 2 confirmed the good performance of the entire equipment supplied by ANDRITZ HYDRO.

As part of the take-over process, the turbine-generator units went through a rigorous testing regime which culminated in a continuous 3-month long reliability run of all 90 units. Both plants passed this endurance test and recorded minimal outages which amounted to less than a fifth of the allowed outage threshold values. The world´s largest HYDROMATRIX® plant has thereby proven its reliability. Despite delays in construction due to major flood events in 2010, the project was completed within three and a half years. During its 35 year-long build-operate-transfer concession, Energji Ashta will deliver more than 240 GWh of annual energy and will significantly improve the energy supply situation in Albania.
Technical data

| | |
| --- | --- |
| Output: | 53 MW |
| Head Ashta 1: | 4.98 m |
| Head Ashta 2: | 7.53 m |
| Number of TG-units:     | 45 + 45    |