Czech Republic - Dalešice and Mohelno
A contract for the refurbishment of the control systems of HPP Dalešice and HPP Mohelno has been awarded to ANDRITZ HYDRO in 2013. Both hydropower plants are located in south Moravia (Czech Republic).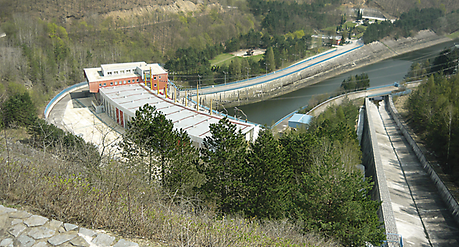 The Dalešice hydropower station is equipped with four sets of reversible Francis turbines for a 90 m head (clay-sealed rock-fill dam) and synchronous generators. Its installed capacity of 450 MW and 60 seconds startup time plays an important role in the regulation of the Czech power grid.

The Mohelno run-of-river hydroelectric power station is equipped with two turbine sets of 1.2 MW and 0.6 MW. The Mohelno reservoir balances the runoff from HPP Dalešice, and serves as its lower basin. The refurbishment is planned for 2014 and 2015. After that, both power plants will be equipped with state-of-the-art ANDRITZ HYDRO control systems, allowing error-free operation for the coming years.

Technical data

| | |
| --- | --- |
| Dalešice: |   |
| Output: | 4 x 112.5 MW |
| Head: | 90.7 m – 60.5 m |
| Speed: | 136.2 rpm |
| Runner diameter: | 800 mm |
| Mohelno: |   |
| Output: | 1.2 MW / 0.6 MW |
| Head: | 35.0 m – 20.5 m |
| Speed: | 750 rpm |
| Runner diameter: | 800 mm |