IHA World Congress - Kuching, Malaysia
Over 500 participants from industry, civil society, NGO's, academia, finance, and other fields coming from about 60 countries, convened the International Hydropower Association's 2013 World from 21-24 May, 2013 in Kuching (Malaysia).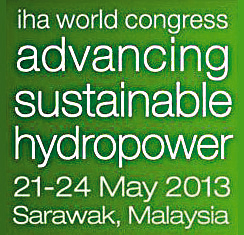 The Congress delegates discussed key questions relating to the future of hydropower. Topics ranged from investors and markets, working with project-affected communities, integration of hydropower with other renewables, expectations from modern energy systems, coordination of water and other energy policies, as well as the incorporation of sustainability into business practice, the relationship between hydropower and climate change and the meaning of social aspects to this sector.
Wolfgang Semper, Chairman of the Hydro Equipment Association (HEA), outlined the equipment manufacturers' perspective during the course of a "CEO Roundtable on what is modern hydropower". He suggested that "modern hydropower" entails a range of elements, including new forms of equipment for a variety of situations, new features in power plants and innovative approaches to new technologies.