ANDRITZ Maerz – Member of ANDRITZ Metals Germany
is a specialist for industrial furnace plants and a leading supplier of engineering, know-how, and process technology to the steel industry. ANDRITZ Maerz delivers furnace systems for reheating and heat treatment, and melting furnaces.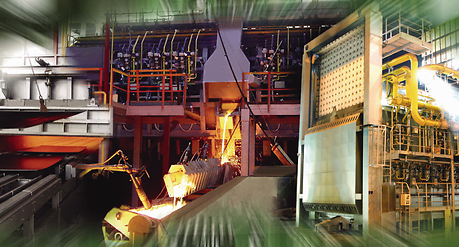 ANDRITZ Maerz, located in Düsseldorf, Germany, offers planning, engineering, supply, installation, and start-up of furnace systems for thermal processes and accessory installations to the steel industry. ANDRITZ Maerz is known in the iron and steel industry for continuous and batch-type furnaces, both for reheating and heat treatment processes (e.g. double walking beam furnaces, pusher-type furnaces, roller hearth furnaces, car bottom furnaces, etc.).

As a member of the ANDRITZ GROUP, ANDRITZ Maerz complements the Group's portfolio within the Metals strategic business area.
Customized solutions
Planning and execution of the plant
Engineering and construction
Installation
Commissioning
The staff of ANDRITZ Maerz comprises well over 50 highly qualified and experienced engineers. They design plants for different applications and ensure that the high quality standards of ANDRITZ Maerz are delivered at all times. All our products and services are tailored to each customer's particular requirements.

The plants are manufactured in compliance with national and international standards. Each sub-supplier is subject to the ANDRITZ Maerz quality management check in accordance with the specified requirements.
Customer benefits
Broad range of products with state-of-the-art plant technology
Customized solutions for the layout, manufacture, and supply of turnkey furnace systems, based on long-term experience and continuous developments
Optimization and modernization of existing furnace plants to increase capacity and reduce energy consumption
Close cooperation and long-lasting business relations with customers
ANDRITZ Maerz GmbH | Düsseldorf