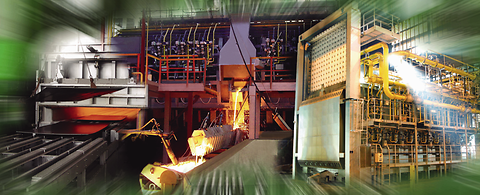 Industrial furnaces
ANDRITZ Metals furnace technology is setting benchmarks in pickling, annealing and galvanizing steel strip processing as well as in reheating, heat treatment sectors in steel industry.
On account of its long tradition and experience, ANDRITZ Metals' furnace division can claim to be one of the leading suppliers of engineering, know-how and process technology to the carbon, stainless, aluminum industry in the annealing and heat treatment sectors.

The peak of today's standards
Reheating and heat treatment furnaces from ANDRITZ METALS
Moving ahead with experience and innovation
ANDRITZ Metals offers future-oriented technologies in the cold-strip market segment worldwide. All required processes can be engineered, delivered, and started up by one supplier – packages that cover complete lines for carbon and stainless steel, as well as non-ferrous cold-strip processing lines.
Solutions for reheating, heat treatment, melting and refining
Batch-type furnaces
Continuous furnaces
Large-scale continuous furnaces
Cooling technologies
Ultra slow cooling
Different type of jet cooling units
Rapid jet cooling modules
Differential rapid jet cooling (DRJC-patent)
Solutions for annealing and strip processing
Direct gas fired, horizontal centenary type furnace
Vertical type furnace with protective atmosphere
Heating technologies
Direct fired furnace (DFF)
All radiant tube furnace (ART)
Inductive heating (ANDRITZ Selas patent)
Burner and refractory equipment
ANDRITZ Metals Germany (former ANDRITZ FBB) is the leading supplier of industrial burners and heating systems for a wide range of industrial thermal applications particularly in the steel and aluminum industry. ANDRITZ refractory products are designed for increase of furnace productivity and optimization of energy performance.
Leading process technology in furnace design, the wealth of experience gained from long lasting practice, consistent further development - these are just some of our many strengths and why you should look to ANDRITZ Metals for your metal processing needs.