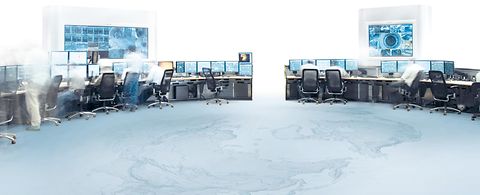 ANDRITZ enhances all its automation solution deliveries with a high level of cyber security protection
2022/06/03
International technology group ANDRITZ has successfully implemented new processes and tools for equipping all of its automation solutions with a high level of cyber security.
In partnership with OTORIO, a leading OT security provider based in Israel, ANDRITZ offers automation solutions that help to protect customers' production infrastructure and all related assets against cyber- attacks in the best way possible, thus reducing the risk of production downtime to an absolute minimum.
Founded by leading OT cyber security experts, OTORIO's portfolio of cutting-edge solutions ensures continuous digital risk management and compliance with the relevant security standards. These solutions are now fully integrated into the ANDRITZ automation portfolio, providing customers with safer machines and a significantly more resilient infrastructure. The main products are:
OTORIO spOTTM, which was developed particularly for highly networked automation solutions. It protects entire networks, automation components and their data against unauthorized access or criminal use so that confidentiality, integrity and availability are ensured.
OTORIO RAM², which protects plants in operation to continuously ensure the highest possible level of cyber security for the entire production plant over its full life cycle.
All automation solutions must be continuously assessed for cyber security risks throughout their entire life cycle, starting with system design, through to factory acceptance and delivery, and ending with continuous operation at the final customer's plant. For this purpose, ANDRITZ offers all automation solutions with corresponding IEC and NIST compliance certificates.
To show and analyze the full production risk of a complete plant, the patented holistic "Asset Performance Management (APM)" within Metris – ANDRITZ digital solutions combines the asset condition, maintenance management and inspection risks with a digital cyber security risk to provide an overall production risk KPI.
- End -
ANDRITZ GROUP
International technology group ANDRITZ offers a broad portfolio of innovative plants, equipment, systems, services and digital solutions for a wide range of industries and end markets. ANDRITZ is a global market leader in all four of its business areas – Pulp & Paper, Metals, Hydro, and Separation. Technological leadership, global presence and sustainability are the cornerstones of the group's strategy, which is focused on long-term profitable growth. The publicly listed group has around 27,100 employees and over 280 locations in more than 40 countries.
ANDRITZ AUTOMATION
ANDRITZ Automation covers the entire project life cycle of the plant. Starting with project management, hardware and software development, through installation works, commissioning, and operator training, to maintenance and design work for extensions and improvements. With the Metris technology brand, ANDRITZ Automation offers a wide range of digitization products that customers can use individually and in combinations for their own essential and sustainable benefit. The proprietary Metris platform adds significant value to the planning, operation, asset management, maintenance, and optimization of production plants and the associated supply chains. The division has around 2,000 employees and is active in over 100 locations.