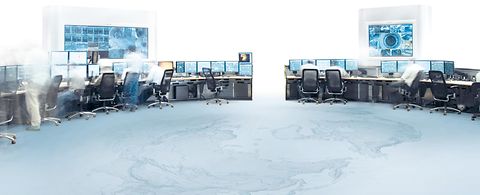 ANDRITZ to leverage KCF Technologies machine health monitoring solutions to improve customer plant safety
2023/02/02
International technology group ANDRITZ and KCF Technologies, a leading provider of machine health solutions, announced their global collaboration today.
The partnership offers ANDRITZ's customers a differentiated and comprehensive solution to their most complex manufacturing challenges. By combining KCF's machine health solutions with ANDRITZ's extensive expertise in equipment design and process optimization, both companies will further improve customers' plant safety, machine reliability, asset management, and system uptime in the pulp and paper industry.
"Our partnership with KCF Technologies will take our expertise in machinery diagnostics and overall plant process know-how to a new level. Customers will benefit from our cooperation with enhanced performance of their assets," says Heinz Autischer, Chief Automation Officer, ANDRITZ GROUP.
The convergence of Metris – ANDRITZ Digital Solution platform and KCF's SMART diagnostics platform combines process optimization with real-time machine health data. Having both solutions seamlessly connected and integrated into one workflow provides customers with complete visibility for monitoring and analyzing equipment anomalies. In addition, quality work requests and maintenance activities are performed constantly enabling comprehensive system optimization.
"KCF Technologies is excited to partner with ANDRITZ to amplify the value brought from both companies' offerings. This is the first solution at scale to bring together asset knowledge, machine health data, and process optimization in one box. The benefit of the cooperation is a solution built for maximum value creation for our customers," adds Jeremy Frank, CEO of KCF Technologies.
The collaboration between ANDRITZ and KCF is a transformative step towards optimizing manufacturing on a global landscape. Through this agreement, ANDRITZ and KCF are focused on improving customers' operating efficiency and safety with an integrated solution.
- End -
ANDRITZ GROUP
International technology group ANDRITZ offers a broad portfolio of innovative plants, equipment, systems, services and digital solutions for a wide range of industries and end markets. ANDRITZ is a global market leader in all four of its business areas – Pulp & Paper, Metals, Hydro, and Separation. Technological leadership, global presence and sustainability are the cornerstones of the group's strategy, which is focused on long-term profitable growth. The publicly listed group has around 27,900 employees and over 280 locations in more than 40 countries.
ANDRITZ PULP & PAPER
ANDRITZ Pulp & Paper provides sustainable technology, automation, and service solutions for the production of all types of pulp, paper, board and tissue. The technologies and services focus on maximum utilization of raw materials, increased production efficiency, lower overall operating costs as well as innovative decarbonization strategies and autonomous plant operation. Boilers for power generation, flue gas cleaning systems, various nonwoven technologies, panelboard (MDF) production systems, as well as recycling and shredding solutions for numerous waste materials also form a part of this business area. State-of-the-art IIoT technologies as part of Metris digitalization solutions complete the comprehensive product offering.
ANDRITZ AUTOMATION & DIGITALIZATION
ANDRITZ Automation & Digitalization covers the entire project life cycle of the plant. Starting with project management, hardware and software development, through installation works, commissioning, and operator training, to maintenance and design work for extensions and improvements. With the Metris technology brand, ANDRITZ Automation & Digitalization offers a wide range of digitization products that customers can use individually and in combinations for their own essential and sustainable benefit. The proprietary Metris platform adds significant value to the planning, operation, asset management, maintenance, and optimization of production plants and the associated supply chains. The division has around 2,000 employees and is active in over 100 locations.
KCF TECHNOLOGIES
KCF is on a mission to permanently solve the complex asset problems that have plagued industry. Their team develops technology and services that empower industrial businesses to eliminate unplanned downtime, optimize their operations, and outpace their competition. 
For more information on KCF Technologies, visit www.kcftech.com