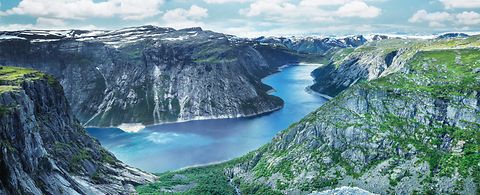 ANDRITZ and EGAT cooperate on joint development and modernization of hydropower business
2022/03/24
International technology group ANDRITZ and the Electricity Generating Authority of Thailand (EGAT) have signed a Memorandum of Understanding (MoU) to jointly explore and expand business opportunities for hydropower projects in Thailand and surrounding countries.
EGAT is the state-owned power utility under the Ministry of Energy and the largest power producer and supplier in Thailand. Owning and operating about 50 power plants across the country, with a total installed capacity of about 16,000 MW, the company engages and invests in energy-related businesses, not only in Thailand but also abroad.
Combining the technology experience of ANDRITZ as a market leader for electro- and hydromechanical equipment and the thorough operational expertise of EGAT as a power producer, the cooperation comprises expanding the digitalization of EGAT's hydropower facilities and developing rehabilitation and also automation projects in Thailand. In addition, the agreement focuses on exploring new, joint business opportunities, including operation and maintenance services in Thailand and the surrounding region.
To cope with Thailand's economic growth and the associated increase in energy consumption, the government's power development plan aims to increase the country's total installed energy capacity from today's 55,731 MW to about 77,210 MW by 2037. This goal is to be achieved primarily through the installation of renewable energy facilities, with hydropower playing an important role not only in generating clean energy but also in providing grid stability services.
ANDRITZ has been present in Thailand for more than 50 years with important hydropower reference projects such as Bhumibol or Srinagarind. Today, nearly half of the country's total installed hydropower capacity has been installed or rehabilitated by ANDRITZ.
ANDRITZ is honored to work with EGAT to jointly develop hydropower opportunities in the region and to support EGAT in making its hydropower fleet fit for the future.
- End -
ANDRITZ GROUP
International technology group ANDRITZ offers a broad portfolio of innovative plants, equipment, systems, services and digital solutions for a wide range of industries and end markets. ANDRITZ is a global market leader in all four of its business areas – Pulp & Paper, Metals, Hydro, and Separation. Technological leadership, global presence and sustainability are the cornerstones of the group's strategy, which is focused on long-term profitable growth. The publicly listed group has around 26,800 employees and over 280 locations in more than 40 countries.
ANDRITZ HYDRO
ANDRITZ Hydro is one of the globally leading suppliers of electromechanical equipment and services for hydropower plants. With over 180 years of experience and an installed fleet of more than 470 GW output, the business area provides complete solutions for hydropower plants of all sizes as well as services for plant diagnosis, refurbishment, modernization and upgrade of existing hydropower assets. Pumps for irrigation, water supply and flood control as well as turbo generators are also part of this business area's portfolio.