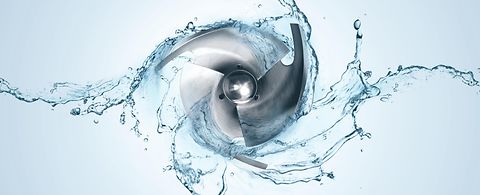 ANDRITZ successfully starts up submersible motor pumps on drilling platforms in the North Sea
2014/03/09
The six submersible motor pumps supplied last year by international technology Group ANDRITZ to Jurong Shipyard, Singapore, were started up successfully on two drilling platforms in the North Sea.
The pumps convey the industrial water for cooling the drilling equipment from a depth of 20 meters.

Installed in the supporting legs of the platforms, each of these four-pole submersible motor pumps conveys around 600 cubic meters of industrial water per hour. The ANDRITZ Ritz pumps are specially designed to meet the requirements for rugged offshore environments. In order to cope with the extreme thermal and mechanical conditions, the motors' winding wire has special insulation and can therefore withstand greater stress. The housing is made of seawater-resistant nickel-aluminum bronze and features very long operating lifetime. The new, innovative saver technology monitors the operating status and maintenance needs of the motors.

ANDRITZ Ritz has been operating in the underwater technology sector for more than 65 years and has strengthened its position as one of the world's leading suppliers of pumps for the offshore sector with successful conclusion of this order.

− End −
The ANDRITZ GROUP
The ANDRITZ GROUP is a globally leading supplier of plants, equipment, and services for hydropower stations, the pulp and paper industry, the metalworking and steel industries, and for solid/liquid separation in the municipal and industrial sectors. In addition, ANDRITZ offers technologies for certain other sectors including automation, the production of animal feed and biomass pellets, pumps, machinery for nonwovens and plastic films, steam boiler plants, biomass boilers and gasification plants for energy generation, flue gas cleaning plants, plants for the production of panelboards (MDF), thermal sludge utilization, and biomass torrefaction plants. The publicly listed, international technology Group is headquartered in Graz, Austria, and has a staff of around 23,900 employees. ANDRITZ operates over 220 production sites as well as service and sales companies all around the world.