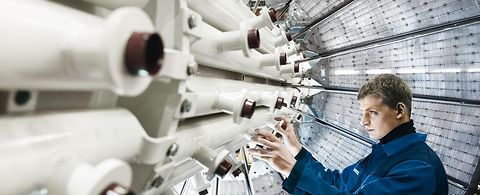 ANDRITZ SEPARATION successfully starts up a newly developed decanter for a Spanish olive oil producer
2016/02/23
A newly developed F-series ANDRITZ SEPARATION decanter has been started up successfully for an olive oil producer in Jaén, Spain. In the first extraction phase, the F6000 decanter already achieved a throughput of 300 tons per day.
In addition to the high throughput, the quality of the olive oil is enhanced in terms of flavor and fragrance because the oil contains less contaminants and is processed gently. Further priorities in development work on the new decanter were versatility and flexibility. The decanters deliver lowest oil content in the resulting cake for any variety of olive processed, and they have a scroll design specially developed for olive oil extraction and an adjustable skimmer to control separation efficiency in live machine operation. Another benefit that is relevant for the end user is the low energy consumption.

This successful start-up confirms ANDRITZ SEPARATION's long-standing experience and good position in the olive oil market.
– End –

The ANDRITZ GROUP
ANDRITZ is a globally leading supplier of plants, equipment, and services for hydropower stations, the pulp and paper industry, the metalworking and steel industries, and for solid/liquid separation in the municipal and industrial sectors. The publicly listed technology Group is headquartered in Graz, Austria, and has a staff of approximately 25,000 employees. ANDRITZ operates over 250 sites worldwide.


ANDRITZ SEPARATION
ANDRITZ SEPARATION is one of the leading global suppliers of technologies and services in the solid/liquid separation sector, as well as for the production of animal feed and biomass pellets. The comprehensive product portfolio for solid/liquid separation comprises centrifuges, filters and drying plants, screens, thickeners, separators, and transportation systems – the industries served include municipal and industrial wastewater treatment, chemicals, food and beverages, as well as mining and minerals. The service sector focuses on plant modernization, spare and wear parts, and process optimization.