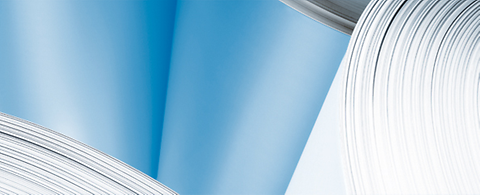 Smooth operation and excellent product quality with ANDRITZ tissue technology at Vajda Papír, Hungary
2020/05/28
The ANDRITZ tissue machine at Vajda Papír, Dunaföldvár, Hungary, has been in full operating mode for a few months now, and the results are impressive:
"We are really satisfied with the quality of our paper. We have received very positive feedback from our customers, who are impressed by the softness and handfeel," says Attila Vajda, CEO, Vajda Papír.
The PrimeLineCOMPACT tissue machine – with a design speed of 2,100 m/min, a working width of 2.74 m, and a capacity of 35,000 t/a – produces tissue for high-quality facial wipes, napkins, toilet tissue, paper towels, and kitchen roll. The machine is equipped with a PrimePress XT Evo shoe press for improved dewatering as well as a 16 ft. PrimeDry Steel Yankee and a ReEvaporation heat recovery system.
"Right from the beginning, significant savings were achieved in energy consumption compared to operations with conventional suction press rolls. The new generation of the PrimePress XT Evo shoe press led to a remarkable increase in drynesss," explains Klaus Blechinger, Vice President Tissue at ANDRITZ.
The scope of supply also included the complete stock preparation plant with approach flow, the fiber recovery and broke system as well as the PrimeControl automation. Additionally, auxiliary systems such as the machine hall ventilation system, compressor plant and steam boiler underline ANDRITZ's capabilities as a turn-key supplier.
The tissue production line also has an online connection to the new Metris Performance Center in Graz, Austria. The center offers comprehensive support for the Vajda Papír tissue mill by providing advanced digital services like the Metris UX Platform and the proven Metris OPP (Optimization of Process Performance), thus ensuring optimized process conditions and smooth production.
Vajda Papír is one of Europe's most dynamically expanding tissue producers. The 100% Hungarian-owned private company operates tissue production mills in Hungary and Norway and covers a wide tissue product range. During its history covering almost two decades, the company has also won several regional and national awards for its business and product quality and focuses strongly on environmentally friendly tissue production.
- End -
ANDRITZ GROUP
International technology group ANDRITZ offers a broad portfolio of innovative plants, equipment, systems and services for the pulp and paper industry, the hydropower sector, the metals processing and forming industry, pumps, solid/liquid separation in the municipal and industrial sectors, as well as animal feed and biomass pelleting. The global product and service portfolio is rounded off with plants for power generation, recycling, the production of nonwovens and panelboard, as well as automation and digital solutions offered under the brand name of Metris. The publicly listed group today has around 28,400 employees and more than 280 locations in over 40 countries.
ANDRITZ PULP & PAPER
ANDRITZ Pulp & Paper provides equipment, systems, complete plants and services for the production of all types of pulp, paper, board and tissue. The technologies and services focus on maximum utilization of raw materials, increased production efficiency and sustainability as well as lower overall operating costs. Boilers for power production, flue gas cleaning plants, plants for the production of nonwovens and panelboard (MDF), as well as recycling and shredding solutions for various waste materials also form a part of this business area.