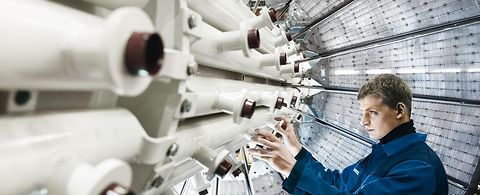 ANDRITZ presents product innovations for the mining and minerals industry at EXPOSIBRAM
2019/08/08
Value-added solid/liquid separation and automation solutions for the mining and minerals industry, especially for tailings treatment
Launch of the new ANDRITZ Decanter centrifuge A10-4 for environmentally responsible tailings treatment
Metris addIQ ACE for filter presses: innovative automation and digital solutions for plant and process optimization
International technology group ANDRITZ will be presenting its wide range of proven solid/liquid separation technologies and services for the mining and minerals industry as well as innovative automation and digital solutions at the EXPOSIBRAM fair in Belo Horizonte (MG), Brazil, from September 9 to 12, booths Y69-71 and AE12.
At EXPOSIBRAM (Expo & Congresso Brasileiro de Mineração), which is one of the largest mining exhibitions in Latin America, ANDRITZ will be presenting its broad product portfolio for all solid/liquid separation and automation challenges in the mining and minerals industry – from applications like copper and lithium production, through coal and potash dewatering to efficient and environmentally responsible tailings treatment and process water recovery.
THE LATEST PRODUCT INNOVATIONS FOR SOLID/LIQUID SEPARATION PROCESSES
An innovation to be featured at the EXPOSIBRAM for the first time is the intelligent filter press from ANDRITZ. Attendees can see how it increases capacity, optimizes process parameters, and ensures ideal process conditions for downstream equipment while enhancing process reliability and reducing unexpected production losses. For this new product, ANDRITZ has combined findings gathered from Industrial Internet of Things (IIoT) technologies with automation solutions for the filter press, creating new mechanisms and features that promise an increase in product quality and a decrease in operating costs as a result of process optimization – from smart sensors to collect all the relevant operational data of the filter press to sophisticated data analytics to turn this data into relevant information.
A new product to be launched also at EXPOSIBRAM is the ANDRITZ Decanter centrifuge A10-4 for tailings treatment – a solution that not only provides highest process efficiency, but also state-of-the-art dewatering and reclamation. Features like the TurboJet weir plate for lower energy consumption, the GentleFeeder for reduced turbulence and shear forces in the feed section, or its deep pond design make the ANDRITZ Decanter centrifuge A10-4 excel at efficiency. At the booth, visitors will be able to gather detailed information about this latest product innovation and also view an ANDRITZ A-decanter test unit.
SOPHISTICATED IIOT TECHNOLOGIES AND PROVEN SERVICE SOLUTIONS
The digitalization topic will be addressed by the the Metris addIQ control system, which was launched by ANDRITZ and conjuncts various automation solutions under one brand. The Metris addIQ solutions reflect the latest in the IIoT sector and have proven their value added by enhancing availability and minimizing production costs at the same time as increasing overall equipment efficiency and reducing the risk of operational errors – not only for new production lines but also for operations that are already up and running.
One of the latest innovations under the Metris brand name is the Metris addIQ ACE for filter presses, which will have its first appearance at EXPOSIBRAM. Metris addIQ ACE for filter presses is a perfect way to optimize plants with multiple filter press lines. Taking into account all available filter press lines and the associated process-oriented cleaning of the filter cloths with the help of intelligent cloth washing, based on pressure and throughput analyzes as well as continuous contamination control, downtimes for the cloth change are considerably reduced, thus achieving the best possible overall throughput of the system. In addition, spare parts and maintenance costs are reduced.
Furthermore, process experts from ANDRITZ will provide an in-depth insight into the comprehensive service portfolio, ranging from initial consulting to service agreements and process optimization through to training programs. Visitors will not only be able to learn about service offerings like spare parts, rentals, local service, repairs, upgrades, or modernization of machines and systems, but also about new features for the products displayed at EXPOSIBRAM. One of these is the Metris SmartFILTERCLOTH, a system consisting of an RFID chip that is tagged to each filter cloth and a user-friendly software package that helps to monitor the use of your filter cloths. This increases transparency of filter cloth usage and helps optimize the process and the equipment's availability.
PROVEN SOLUTIONS FOR THE MINING AND MINERALS INDUSTRY
ANDRITZ systems are designed for the most demanding applications in mining and minerals processing, and the Group will be displaying some of the highest-capacity technologies in the industry, from thickeners and presses to filters, centrifuges, and flocculant plants.
As ANDRITZ has the most comprehensive portfolio of different dewatering and drying technologies for the mining and minerals industry, with an infinite range of variations, customers will find their optimum solutions for their individual applications and needs.
- End -
ANDRITZ GROUP
ANDRITZ is an international technology group providing plants, systems, equipment, and services for various industries. The company is one of the technology and global market leaders in the hydropower business, the pulp and paper industry, the metal working and steel industries, and in solid/liquid separation in the municipal and industrial segments. Other important fields of business are animal feed and biomass pelleting, as well as automation, where ANDRITZ offers a wide range of innovative products and services in the IIoT (Industrial Internet of Things) sector under the brand name of Metris. In addition, the company is active in power generation (steam boiler plants, biomass power plants, recovery boilers, and gasification plants) and environmental technology (flue gas and exhaust gas cleaning plants) and offers equipment for the production of nonwovens, dissolving pulp, and panelboard, as well as recycling plants.
ANDRITZ stands for passion, partnership, perspectives and versatility – core values to which the company is committed. The listed Group is headquartered in Graz, Austria. With almost 170 years of experience, approximately 29,600 employees, and more than 280 locations in over 40 countries worldwide, ANDRITZ is a reliable and competent partner and helps its customers to achieve their corporate and sustainability goals.
ANDRITZ SEPARATION
ANDRITZ Separation is one of the leading separation technology specialists with the broadest technology portfolio in solid/liquid separation. The industries served include sectors ranging from environment to food, chemicals, and mining and minerals. The comprehensive product portfolio for solid/liquid separation comprises mechanical technologies such as centrifuges, filters, screens, thickeners, or separators, and thermal technologies such as dryers or coolers. The service sector focuses on customer support through local presence, prompt delivery of spare and wear parts, process monitoring and optimization, as well as operator training. In addition, the Separation business area offers technologies and services for the production of animal feed and biomass pellets.