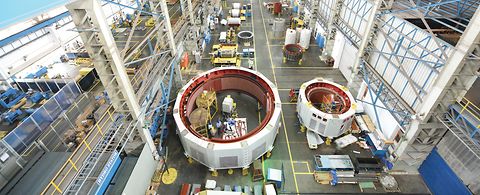 Electromechanical equipment for the Shongtong Karchham hydropower plant, India
ANDRITZ HYDRO to supply equipment for 450 megawatt plant.
The new plant will provide clean and renewable energy for approximately 800,000 Indian households.

ANDRITZ has received an order from Himachal Pradesh Power Corporation Ltd. to supply the complete electromechanical equipment for the new Shongtong Karchham hydropower plant in Himachal Pradesh, India. Commissioning is scheduled for 2019.
The scope of supply includes three Francis turbines and generators, the balance of plant, as well as control and protection equipment. The run-of-the-river hydropower station with an underground power house will be located on the river Satluj in the Kinnaur district. The project is funded by Germany's largest promotional bank, KfW, and will thus comply with KfW's comprehensive environmental and social standards.
ANDRITZ HYDRO is currently executing two other projects for the state-owned utility company Himachal Pradesh Power Corporation Ltd.. Himachal Pradesh is one of the most important hydropower regions in India, representing a hydropower potential of about 20 gigawatts, which is roughly one quarter of India's total hydropower potential.