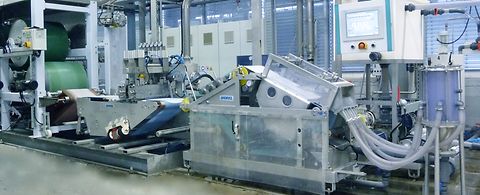 Nonwoven technical center for wetlaid processes
Located in Krefeld, Germany, the ANDRITZ Küsters wetlaid technical center is equipped with a flexible wetlaid pilot line.
The technical center in Krefeld supports customers with trials, product development, and expert service with the most advanced wetlaid pilot line equipment.
Our wetlaid pilot line has a pulper, vats for two layers, a headbox with distributor, inclined wire dewatering section, two hydroentanglement injectors, and a six-cylinder dryer, including winder. The components are on a rail system so that they can be configured easily in different arrangements. The pilot line also includes two ANDRITZ Perfojet Jetlace hydroentanglement unit for wetlace applications. This pilot line is the first worldwide that sets up the complete process with ANDRITZ in-house technology.
A team of highly competent process engineers stands ready to perform trials and test series. Confidentiality is assured and special arrangements can be made to protect any intellectual property belonging to customers.