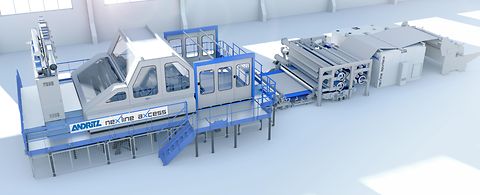 ANDRITZ neXline spunlace aXcess
The neXline spunlace aXcess range enables to enter the nonwoven market in capacity range up to 12,000t/a. Its proven concept encompasses opening and blending equipment, carding systems, hydroentanglement units, and through-air dryers especially designed to produce a wide range of spunlace fabrics at low operating costs.

Direct web forming for commodity products
The nexline spunlace aXcess has been specially designed for growing markets. Thanks to the combination of the robust CA22/25 cards and the innovative Jetlace Avantage hydroentanglement system, we can now provide a new process for capacities up to 5,500 t/a. It is the perfect solution for newcomers producing lightweight spunlace fabrics.

ANDRITZ set a new milestone in the spunlace industry with the newly configured nexline spunlace aXcess for lightweight fabrics. This complete line is equipped with only one VarioWeb in-line card with three doffers in combination with the well-known Jetlace Avantage hydroentanglement unit and the neXdry Avantage dryer. Manufacturers can now produce state-of-the-art spunlace fabrics with perfect web uniformity.

Crosslapped web forming for durable products
The nexline spunlace aXcess, including the Opening/Blending APC, a CA21/22, a profile crosslapper, a Jetlace Avantage hydroentanglement unit and the neXdry Avantage dryer is especially designed for the production of nonwovens with various mechanical properties, like a balanced MD:CD (machine direction, cross direction) ratio, is demanded by hygiene (face masks), coating substrates, automotive and filtration applications.