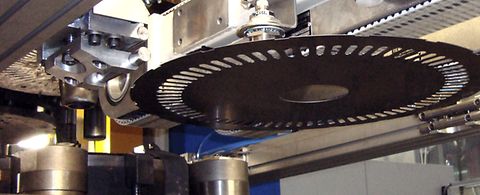 Electric motor lamination press lines (rotor/stator/segments)
The production of electric motor laminations imposes strict requirements on the press and automation. ANDRITZ Kaiser looks back on decades of experience in the electric motor laminations sector and provides the customer with state-of-the-art solutions.
Precise timing and general performance are required for competitive productivity. Due to the large amount of cutting required, a very rigid machine is needed to absorb the rebound without damaging any equipment. Finally, the tolerances of the end product call for a very precise slide movement and low frame deformation.

Our well designed and thoroughly tested concept allows customers to manufacture high-quality products with maximum efficiency. ANDRITZ production lines for electric motor laminations are characterized by the following features:
Best-in-class feeding systems through unstacker or zig-zag roll feeder, centralized controls
Highly stable machine with split-design, cast iron frame for good vibration absorption and very low deformation
Clearance-free, pre-stressed guiding system for perfectly parallel sliding at every point of movement
Fast and precise transfer system
Integrated stacker for the end product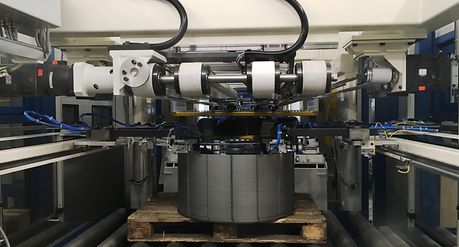 Strengths and benefits of electric motor sheeting
With our motto "focus on performance" and our experience, ANDRITZ Kaiser delivers a great price-performance ratio. As a result of all the above benefits, our customers receive:
Excellent productivity and cost-efficiency
Long-lived, easy to use, low-maintenance production lines
High quality and precision of the end product
Centralized, efficient project management