teXcal trike – the revolution in technical textiles
This calender takes you a step ahead by maximizing flexibility with two independent nips.
Due to its innovative three roll arrangement, the teXcal trike minimizes fabric losses at the seam passage and provides a substantial economic advantage for your production.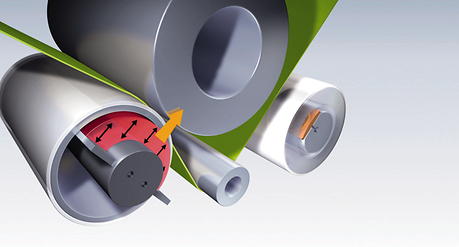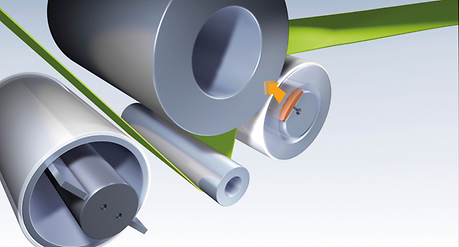 Besides being operator-friendly, textile calenders need to provide a high degree of flexibility, reproducibility, and process control. Our patented teXcal trike textile calender meets these requirements ideally and sets new standards for sophisticated technical textiles.

The innovative teXcal trike is a three-roll textile calender with a triangular roll arrangement. A heated top steel roll and two identical or different deflection-controlled system rolls allow individual pressure adjustment. Depending on the product, the fabric can be fed through the front nip, the rear nip, or both.
Greater productivity due to shorter seam passages
The new teXcal trike textile calender offers essential advantages especially for textile finishers with small batch sizes and the resulting frequent seam passages: With automatic seam detection, the seam is guided carefully to the front of the first nip. The line force is lowered for the seam passage to a minimum without affecting the second nip. The seam passes through the pressure-reduced nip. Production at full line force can be resumed immediately after this. The same procedure takes place when the seam passes through the second nip. Benefit from an increased ROI due to less material losses.
teXcal trike in the ANDRITZ Küsters technical center
Our technical center offers an industrial scale teXcal trike textile calender for customer trials. With the S-Roll and the Xpro Roll, it can offer the full range of facilities for comprehensive test series. Call us to schedule your trails!