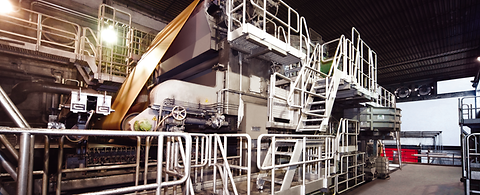 PrimeForm forming sections for paper and board machines
The ANDRITZ PrimeForm product family covers the complete range of Fourdrinier machines, hybrid formers, and gap formers.
Paper properties are strongly influenced by the spatial distribution of the raw materials in the sheet. The optimized design of all PrimeForm forming products, in combination with the PrimeFlow headboxes, delivers excellent paper quality and paper uniformity.

PrimeForm HB
A Fourdrinier section equipped with a hybrid former has a far higher drainage capacity and yields significant beneficial effects on the sheet quality (e.g. improved formation and improved z-direction distribution of fines and filler). The PrimeForm HB is a state-of-the-art hybrid former, designed for an operating speed of up to 1,200 m/min. It provides full operational flexibility and optimized handling.

PrimeForm SW
The PrimeForm SW product range offers various solutions for conventional Fourdrinier sections tailored to the requirements of the paper or board grade. Covering a broad range of machine speeds and working widths, designs are available with single and multiple Fourdriniers. The design of the PrimeForm SW is compact, simplifying its installation in rebuild situations. The result is the production of high-quality paper.



PrimeForm TW
The newly developed PrimeForm TW gap former performs excellently at high speeds with minimal two-sidedness and highest dewatering performance. Grammages from 90 to 160 g/m² are accommodated. Gentle dewatering in the forming roll area ensures high retention. The increased fines content is beneficial for strength development in the final sheet. Forming shoes on both the top and bottom sides generate optimized dewatering within a wide operating window.

The PrimeForm at a glance
State-of-the-art sheet forming, allowing for high production capacity and paper quality
Compact, efficient design
Operator requirements for safe handling, cleaning, and maintenance are built in
Fully cantilevered frame for efficient wire change