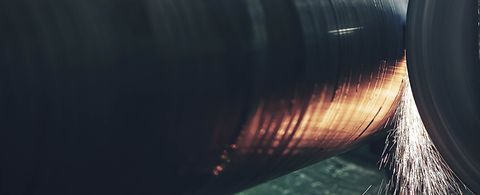 ANDRITZ Küsters roll service for functional rolls
Repair, exchange and upgrade solutions
ANDRITZ Küsters has extensive roll service expertise and is specialized in the repair, reconditioning, and upgrading of all types of rolls, no matter what brand or manufacturer. We have workshop facilities equipped with state-of-the-art machines and tools and can also provide experienced technicians for each roll processing and machining step.
Like other key components, all paper machine rolls require regular maintenance to keep them in good operating condition. Repair, exchange or upgrade measures prevent safety and quality issues and keep the machine performance at the highest level.
ANDRITZ Küsters roll service capabilities

Maintenance, reconditioning and repair
• Drilling
• Honing
• Metal spraying to recondition bearing seats
• Grinding
• Balancing
• New covers and coatings

Upgrade solutions
• Mechanical upgrades
• Hydraulic upgrades
• Automation system upgrades

Replacement of rolls
One-to-one
• Engineering to satisfy new operating conditions
Performance improvement
• Increased production
• Ensuring best paper quality
• Adapting to new operating conditions for new paper grades

Spare parts and services
ANDRITZ Küsters original spare parts impress with their high and uncompromising ANDRITZ quality standards; they can be delivered promptly and have a long service life. This guarantees smooth and economical operation by your machines as well as high productivity.