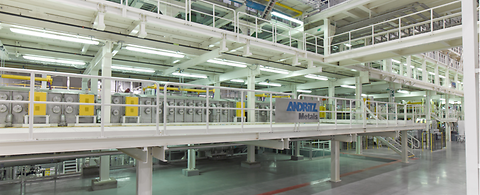 Continuous heat treatment line (CHTL)
ANDRITZ provides heat treatment lines for annealing and solution heat treatment for the production of high strength and high ductile aluminum alloys.
The heat treatment of aluminum alloys, annealing (O) or solution heat treatment (T4, T6), requires high temperatures above 500°C close to the melting point of aluminum alloys. As the strip becomes very soft and sensitive in the furnace all contact has to be avoided. In the floating type furnace the strip is floated on hot air cushion and steered at minimum strip tension.
ANDRITZ Metals has demonstrated excellent strip steering capabilities in our reference lines and is one of the few suppliers capable of providing all processes required for aluminum strip from a single-source.
ANDRITZ cooperates with the best furnace equipment suppliers world-wide and integrates the heat treatment process in a full automatic production line.
The entry section operates full automatic with optimized scrap handling. Head and tail of the strip is connected by the well-established stitching technology. Our proprietary form-fit-bending machine provides a flat strip to the floatation furnace. The annealing and solution heat treatment is followed by the water quench, which allows production of high strength and high ductility heat treatable alloys. The air quench brings the coils to room temperature. ANDRITZ Metals tension levelers are available with steel cassettes or PU rolls and level the quenched strip effectively at controlled elongation rates.
In the exit section the strip surface is inspected automatically and marked according final customer requirements. The ANDRITZ Metals recoiling temperature model controls the pre-aging furnace and the temperature at the recoiler. The level 2 system provides set-points for all process sections as well as the electrostatic oiler. Oil and hot melt (dry lube) film thickness is monitored online. The exit section operates full automatic using the high speed exit shear to cut samples or for the production of daughter coils.
Many years of experience provided by our engineers, the continuous further developments in our technologies and the comprehensive, certified quality management system are proof of ANDRITZ's leading role in the world market. Core components are developed in-house and manufactured at the company's own facilities.
Our specialties are complete customized plants as well as extension or modernization projects. Our experienced on-site supervision and commissioning teams manage greenfield, brownfield and turnkey installation and commissioning. Our experts provide operator training and assistance to ramp-up the production efficiently in tough time schedules.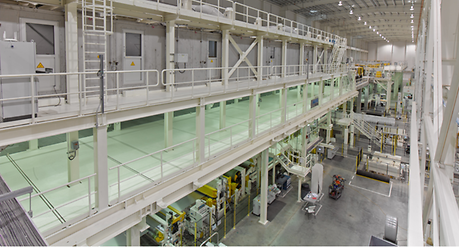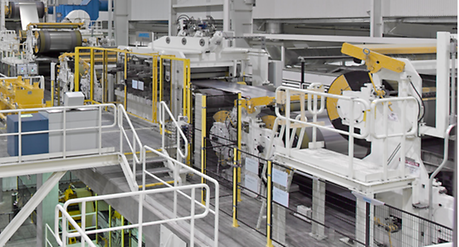 Benefits
Advanced furnace control

References with high capacity floatation furnace

Recoiling temperature model

Full automatic entry and exit section

Stitcher with integrated lubrication