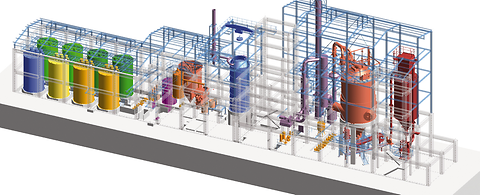 HCl regeneration plants
Nowadays, carbon steel is pickled with hydrochloric acid.
The waste acid generated can either be discharged – which results in high costs and high fresh acid demand – or regenerated. The ANDRITZ HCl regeneration technology includes systems for hydrochloric acid, which is used either in carbon steel pickling or for the production of metal oxides.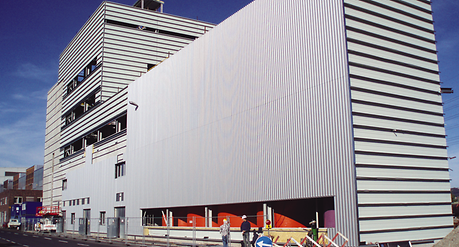 HCl regeneration technology
Waste acid is thermally decomposed in a reactor with direct firing. This reactor can be either a spray roaster or fluid bed type. Rinse water from the pickling line is used for absorption of the hydrogen chloride, thus producing regenerated acid with a concentration of up to 18% HCl. Off-gas cleaning is imperative in order to meet the most stringent emission standards. If the specially designed WAPUR​​​​​​​ process is also used, high-quality oxide is obtained as a by-product.
Acid recovery is an important part of the overall pickling process, in both economic and environmental terms. Nowadays, practically all the acid used in pickling is recovered, thus consumption of fresh acid is extremely low. The choice of either a spray roasting or a fluid bed process for this purpose depends on the situation at the customer's plant.
Spray roasting generates a by-product of powdery red iron oxide, which can be used for many applications, especially in ferrite magnets and pigments. The WAPUR process developed by ANDRITZ can improve many impurities from the pickle liquor, and the resulting oxide has a higher value than the standard grades.

The by-product of the fluid bed process is a heavy, gray granular oxide, which can be recycled to the iron-making process or used for applications such as counterweights and the like.

Our plants are operated using state-of-the art PLC and control systems as well as our highly developed software. Furthermore, all operation and simulation modes are covered, paired with highest availability and safety for your personnel and for the plant.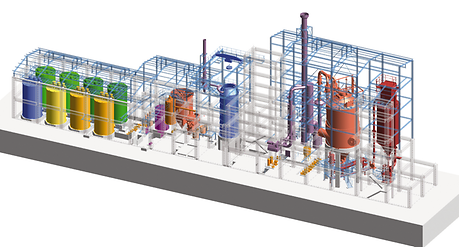 Benefits of HCl regeneration technology
Proven and sophisticated design with more than 200 references worldwide
Most stringent requirements regarding process technology, reliability, efficiency, and maintenance
Recycling of hydrochloric acid with an efficiency of 99.5%
Closed acid loop between the pickling plant and the regeneration system
Waste pickle liquors containing unwanted elements can be treated
Rinse water can be used as absorption water in the regeneration plant, thus reducing, or in most cases completely eliminating the requirement of neutralization capacity for the process
Reactors can be heated with any gaseous or liquid fuels
High-purity iron oxide as a by-product with the WAPUR process