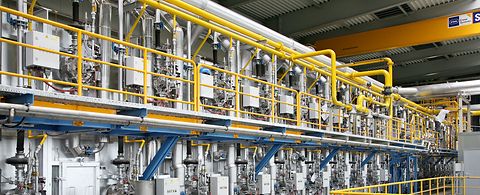 Furnace for annealing of stainless steel strip
Through permanent development and decades of experience, ANDRITZ METALS furnace technology for annealing and pickling lines (APL) and bright annealing lines (BAL) has become one of the leading products in the market.
We offer design, building, and erecting of new furnaces, as well as rebuild of existing systems.

Furnaces for annealing and pickling lines for hot-rolled and cold-rolled stainless strip
A wide range of stainless steel strip can be processed in these furnace types.
Product description
Typical ANDRITZ METALS design concepts have been incorporated successfully into stainless steel processing lines:
Furnace "roll stands", each comprising a minimum of two strip support rolls to allow quick roll changeover by rotating the roll-carrying frame without stopping the line
Strip cooling by means of a flexible, freely selectable system with air cooling, water spraying, mist cooling, and combinations thereof, arranged for operator selection or the process automation system
Integrated wet air scrubbing in the cooling section to remove dust and scale from the spent cooling air
Recipe-type control for automatic adjustment of furnace settings according to material and process requirements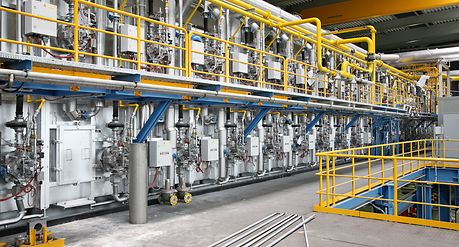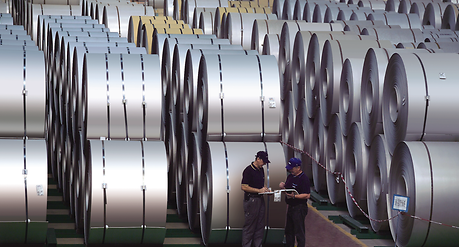 New design concepts for furnaces in CAPLs and HAPLs include the latest developments in combustion technology, with flexibility in selecting components for optimum efficiencies, low emissions, high productivity, and reduced maintenance. All cost-saving aspects are taken into account, as are environmental regulations. We are committed to permanent new developments and trouble-free commissioning of the furnaces.
Customer benefits
ANDRITZ METALS is one of the few suppliers worldwide capable of providing all technologies and processes involved in annealing and pickling of stainless steel strip.
Flexibility towards the customer in furnace and line design in order to create optimal process conditions
Highest product quality and availability
Corresponding E&A models
ANDRITZ Line Master, ALM-OMS