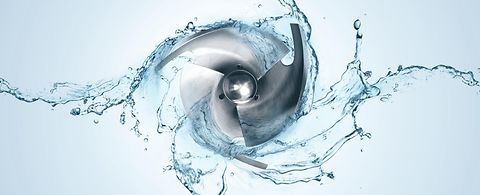 Pumps used as turbines
Energy efficient in forward and reverse mode
Are you looking for an economical way to generate energy with low investment and operating costs? Or do you need a standalone plant for a self-sufficient energy supply? Or perhaps you are even thinking of a small pump storage power plant?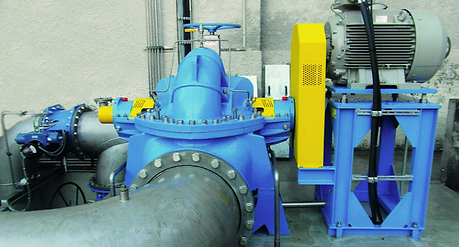 When running forward, an ANDRITZ centrifugal pump contributes to energy savings and conservation. By operating in backward mode, the pump becomes a mini-turbine that can generate a very healthy ROI by recovering and generating electrical power. ANDRITZ pump-turbines are an economical alternative, compared to the cost of buying and operating a conventional turbine. They operate, for example, as recovery turbines in pulp and paper mills, in small hydropower plants, and supply energy to mountain refuges and forest lodges. Thereby, the transport various media ranging from drinking water, residual and waste water as well as pulp suspensions.

The pump-turbine for energy recovery is best applied in situations where high-pressure is needed in one part of the process, but no longer required afterwards. Typically in these installations, the pressure is reduced with a relief valve and the energy stored in the high-pressure fluid is lost. The ANDRITZ pump-turbine efficiently recovers this "lost" energy and generates low-cost power from it. For more information on our pump-turbines please have a look at our brochures in the sidebar or contact us directly.
Product benefits
Energy savings
Lower acquisition costs
Lower operating costs
Excellent operating availability
Wear-resistant execution
Easy maintenance
Impeller with large free passage
Fields of application
Small hydropower plants with grid feed-in
As pressure reducing plants
For use of residual water with energy utilization
As energy recovery turbines, e.g. in the pulp and paper industry
As stand-alone plant for a self-sufficient energy supply
In pump storage power plants to generate and store energy
Electricity from your own plant

This self-sufficiency is offered by ANDRITZ mini-turbine plants, either for personal or for industrial use. Pumps as turbines offer considerable advantages for mini power plants thanks to the combination of cost-effectiveness, operating reliability, and efficiency. The plant has a compact design, suitable for isolated operation and for supplying to an existing power network.

Proven open impeller design

Due to the open impeller design, the mini-turbine - a reverse-running centrifugal pump - handles not only drinking water, but also residual and waste water, as well as pulp suspensions. The design is characterized by open channels and a wear-resistant design that makes the pump insensitive to contaminants when used as a turbine.
Example of energy recovery in the paper industry

An example is the pump-turbine operating in the waste water system of a German paper mill. The total shaft output of the pump-turbine amounts to 127 kW. There is no need for a generator. The turbine part contributes 53 kW to this output. The result is the recovery of energy, with more than 42% being efficiently re-used. The pressurized waste water enriched with air is relieved in the feed pipe to the micro-flotation stage. The excess pressure is absorbed by the pump-turbine and is passed on to the booster pump and used to drive the motor. This provides direct support to the pump drive and increases the overall efficiency of the process.


ANDRITZ pumps used as turbines
| | |
| --- | --- |
| Design: | single-stage and multi-stage; single-flow or double suction; open or closed impeller |
| Head: | up to 80 m |
| Flow rates: | up to 6 m³/s |
| Output: | up to 2 MW |