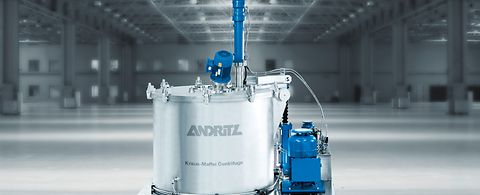 Krauss-Maffei vertical centrifuge VZU
The Krauss-Maffei vertical basket centrifuge VZU has been specifically designed for processing intermediate products in the pharmaceutical, food, and fine chemicals industries. With minimum product loss, optimum cleanability, minimum dead zone design, and inspection capability.
The requirements established for minimum product loss, such as optimum cleaning ability, minimum dead zone design, and inspection capability, are all fulfilled in this development.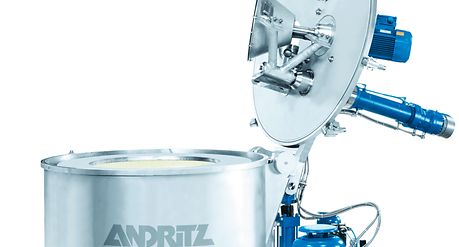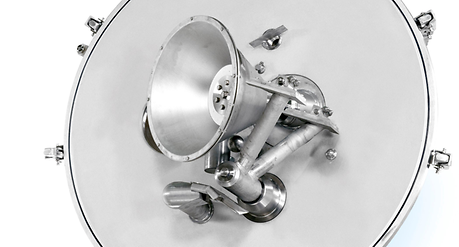 Operating benefits include flexibility to adapt to a wide variety of product requirements, effective and even filling, intensive solids washing, and optimized solids discharge. In addition, the vibration damping system developed for this unit using three column supports is superior to the old standard and results in smooth operation and minimal downtime for maintenance.
Applications

Chemicals
Pharmaceutical intermediates, amino acids, antibiotics, fine chemicals, crop protection chemicals, vitamins, mineral oil, base chemicals

Food
Fatty acids, apple acid, citric acid, lactose

Processing parameters
| | |
| --- | --- |
| Average particle size | 5-500 µm |
| Feed solids concentration | > 3 % by wt. |
| Solids throughput | up to 7 t/h |
| Basket diameter | 1,000-1,600 mm |
| Basket volume | 250-1,000 l |
Process advantages
Simple assembly and maintenance
Machines delivered full assembled, quick-action closure rings, hydraulically operated cover hinge, housing cover opens fully.
Efficient product discharge
Due to optimized discharge geometry and pneumatic residual heel removal.
Minimum product loss
Design contains a minimum of installed parts. Nitrogen supply for residual heel removal is integrated into the scraper arm. Open design for solids discharge.
Homogeneous product distribution
Product distribution, independent of the slurry concentration and flow rate, using the dynamic feed system.
Result-oriented machine control
With continuous measurement of:
Filtration resistance
Feed level
Filtration performance
Submersion point of the liquid
Reduced space requirement
The improved machine geometry on the one hand and the vertical filtrate discharge on the other hand, allow a simpler and more space-saving arrangement of the filtrate discharge pipes.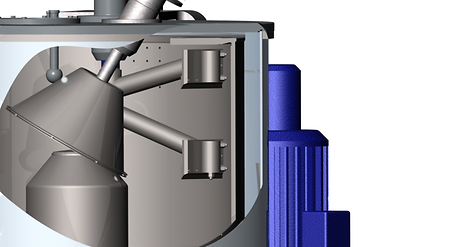 Fine chemicals characteristics
The entire process area boasts generous radii. Parts are installed from the inside and sealed with an exposed O-ring. The solids discharge chute beneath the basket extends in a kidney-shaped design over the entire cross-section, thus avoiding dead zones and making it difficult for product deposits to form. For inspection purposes, the hinged cover of the centrifuge opens in an upward direction.
This allows inspection of the entire process area and also exposes the solids discharge chute. As an option, CIP nozzles are arranged in such a way that the cleaning agent can reach all areas effectively. The housing can be completely flooded, providing efficient cleaning. Operation of the machine is automatic and fully enclosed. There is no contact between the product and the operating personnel, nor the environment.
Cleaning-in-place (CIP)
When changing the product, the equipment has to be cleaned to such an extent that there can be no contamination between the product batches. Users require fully automatic cleaning with verifiable cleaning effect. ANDRITZ KMPT developed an effective CIP program in cooperation with the operators and users. This program generally comprises:
Pre-cleaning:
In a first step, the solvent is fed in through the cleaning nozzles at reduced speed.
Main cleaning:
All discharge pipes leading from the centrifuge are closed. The centrifuge is filled with solvent. The speed and the direction of rotation vary according to a defined program. As a result of this washing machine effect, the machine is cleaned efficiently.
Final cleaning:
The machine is rinsed again using the cleaning nozzles.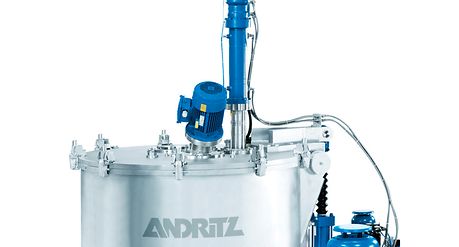 Dimensions and weight
Model
A [mm]
B [mm]

C [mm]

D [mm]

E [mm]

Weight 
[kg]

VZU 1000/2.0
940
2.250
2.650
1.550
2.100
3.800
VZU 1250/3.2
1.200
2.720
3.100
1.750
2.380
7.500
VZU 1600/ 5.0
1.400
3.800
4.000
2.450
3.200
11.600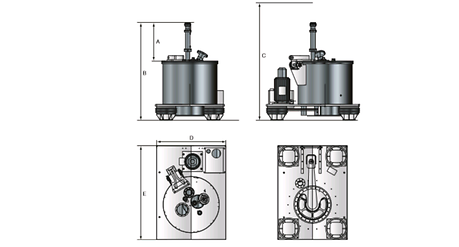 Model
Basket 
diameter 
[mm]

Basket 
length 
[mm]

Basket 
volume 
[l]

Filter 
area 
[m2
]

Max. 
g-force* 
[-]

Max. 
speed 
[rpm]

VZU 1000/2.0
1.000
630
250
2,0
870
1.250
VZU 1250/3.2
1.250
800
500
3,2
630
950
VZU 1600/ 5.0
1.600
1.000
1.000
5,0
570
800
*) Basis: Density of saturated filter cake 1,250 kg/m³ at T=50°C
All technical data are approximate and subject to change without notice.