PUREVO pharma peeler centrifuge
Proven technology meets innovation
PUREVO is the advancement of the Krauss-Maffei HZ Ph peeler centrifuge from ANDRITZ KMPT. In close cooperation with our customers, proven technologies have been combined with innovative design features, leading to excellent separation capabilities. The PUREVO pharma peeler centrifuge ensures maximum levels of product purity, yield, and flexibility.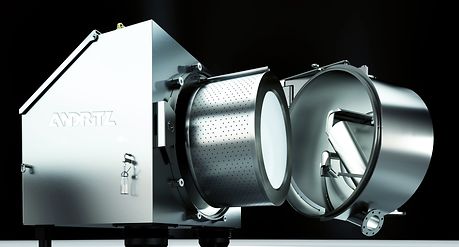 Fits your toughest needs
Producing pharmaceuticals is very cost intensive. Not only because it involves expensive raw materials and considerable R&D efforts, but also because the industry is subject to constantly changing legal requirements. With the PUREVO pharma peeler centrifuge, ANDRITZ SEPARATION provides you with an innovative solution designed to minimize losses and maximize the purity of your products. Built from high-performance materials for hygienic processing, the PUREVO pharma peeler centrifuge meets the rising demand for high-quality pharmaceuticals with high reliability, low maintenance, and exceptional ease of operation.
Design advantages for your convenience
Specific pharma design ensures high hygienic standards
All surfaces are of high quality, and dead zones have been eliminated to allow for ideal cleanability. Following a hygienic drive concept, only pneumatic/electric drives are used in order to meet the highest standards in terms of process and product purity. The PUREVO pharma peeler centrifuge is equipped with a fully inspectable process area (including the front shaft sealing).
No product contamination for high product purity
The PUREVO pharma peeler centrifuge's special design keeps all lubricants and mechanical abrasion outside the process area and thus avoids product contamination. Moreover, seamless monofilament filter cloths prevent product bypass as well as abrasion.
Easy process monitoring for precise control and safety
During operation, the basket, feed pipe, and peeler arm can be easily monitored by the operating staff through the inspection window. Analog and continuous detection and evaluation of the feed level are carried out by means of an analog feed control (FCA) system, which detects the liquid and solid level, or a contact-free measurement based on ultrasonic or radar.
Fast product change enables optimal centrifuge utilization
Product changes can be performed quickly and the process parameters can be adapted easily to different product characteristics. The PUREVO pharma peeler centrifuge features a fully automatic CIP program for guaranteed and validated cleaning within the shortest possible time. Thanks to our patented SmartFIX fastening system with endless tension strips, the filter cloth can be changed within a few minutes, thus reducing maintenance time and costs by around 50%.
Maximum yield thanks to patented discharge concept
Thanks to its patented peeler and discharge geometry, fluidization, and pneumatic residual heel removal features, the PUREVO pharma peeler centrifuge discharges products with virtually no losses. For its users, this means maximum yield, even with sticky products.
As an alternative to this discharge concept, ANDRITZ has developed a pneumatic discharge for minimum product losses, allowing to obtain more product from your centrifuge. This peeling and pneumatic conveying system for peeler centrifuges does not require any gravity or screw discharge. By combining the peeling device with a pneumatic transport system, peeled product is immediately transported out of the centrifuge. Product particles and product dust are removed instantly. The peeling device first cuts a groove into the cake down to the filter cloth. After reaching it, the movement changes from radial to axial, and the peeling device moves along the length of the basket. As it does so, the product is peeled off and pneumatically discharged. Due to the short distance to the filter cloth, the peeling device collects all product residues similar to a vacuum cleaner at home and ensures a product recovery of nearly 100%.
High g-forces for faster processing
Higher g-forces compared to vertical centrifuges and inverting filter centrifuges enable faster product processing in the centrifuge. Furthermore, the resulting low residual moisture enables more efficient processing in the downstream equipment, e.g. dryers. This also leads to excellent washing quality and very high product purities.
Fast and easy installation, handling, and maintenance
PUREVO pharma peeler centrifuges are delivered fully assembled for time-saving installation. Working with the machine is also quick and easy, e.g. thanks to effortless opening/closing of the housing via automatic clamping ring. Furthermore, maintenance is simplified by the SmartFIX fastening system for fast exchanging of filter cloths and by the patented peeler knife and basket assembly with a reduced number of tools needed.
Applications

Chemicals
Pharmaceuticals and fine chemicals (APIs, antibiotics, pharmaceutical intermediate products, active substances, etc.)
Special fields (vitamins, liquid crystals, etc.)

Food
Sweeteners, amino/fatty acids
Processing parameters
| | |
| --- | --- |
| Filter area: | 0.40-2.5 m2 |
| Solids content: | From 3% by wt. |
| Average particle size: | 1-250 µm |
| Wash efficiency: | Excellent |
| Solids recovery: | Almost 100% |
Hygienic design
Extremely hygienic and easy-to-clean housing
One of the most striking features of the PUREVO pharma peeler centrifuge is its hinged housing. By means of an electrically driven, extremely hygienic closing system, the housing can be opened easily, quickly and safely, and then swung to the side manually. This provides a full view of the entire process area with all the seals. The process area boasts generous radii and avoids dead zones and crevices to provide easy cleaning. All surfaces have a high-quality finish.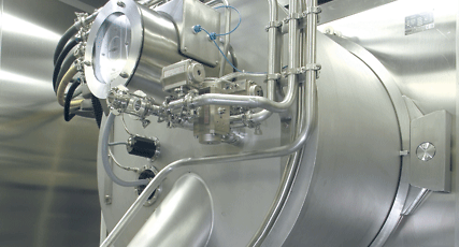 Clear hygienic separation of process and drive area
All connections are fitted from the inside of the process housing and sealed with exposed O-rings. The process can be fully inspected through a sight glass. Dead zones are virtually avoided in order to reduce product deposits. CIP nozzles are arranged in such a way that all areas can be perfectly accessed with cleaning agent. The housing can be flooded, enabling highly efficient cleaning. If required, the housing can be of pressure vessel or vacuum design.
The process and drive area of the centrifuge are kept completely separate for easy installation in clean rooms. The machine operates with a fully pneumatic/electric drive concept. In order to allow operation with highly active substances and provide maximum purity, the product does not come into contact with any of the operators, nor with the environment.
Cleaning in place (CIP)
To ensure fully automatic cleaning, the PUREVO pharma peeler centrifuge is equipped with a proven CIP program developed – together with operators – by ANDRITZ KMPT. In combination with several rinsing nozzles that enable flooding of the entire centrifuge housing, the program is a key factor in the verifiable cleaning effect demanded by today's producers of pharmaceuticals.
Pre-cleaning
In a first step, the cleaning agent is fed in via the cleaning nozzles at reduced rotational speed. Here, most of the remaining solids are removed from the basket and the interior of the housing.
Main cleaning
All discharge pipes from the centrifuge are closed. The centrifuge is filled up to the basket rim with cleaning agent. The speed and direction of rotation are now varied according to a defined program. The machine undergoes effective cleaning through this "washing machine effect". Even the solids discharge chute is completely flooded at the end of this step.
Final cleaning
The machine is rinsed out again with water fed in through the cleaning nozzles in order to remove the final residues and surface dullness.
Easy maintenance
Smart design, easy access to the drive and process area of the centrifuge, quick removal of essential parts that need maintenance at regular intervals, and minimized use of tools – all these are essential factors for easy maintenance. Thanks to a range of innovative, well-thought-out maintenance features, the PUREVO pharma peeler centrifuge offers its users maximum handling comfort. Moreover, significantly shorter downtimes for maintenance reasons immediately translate into longer uptimes, higher productivity, and optimized yield.
Fast, reliable, and easy change of the filter cloth – with SmartFIX
The SmartFIX fastening system enables the operating personnel to change the filter cloth quickly and effortlessly. Thanks to specially designed, endless filter cloths and endless tension strips, the whole replacement process can be carried out in a matter of minutes.
Expertise in automation
With more than 100 sites and over 2,000 employees worldwide, ANDRITZ AUTOMATION is an international competence center for plant design, plant control, and machine control systems. As a one-stop shop, we provide complete automation solutions for machines like the PUREVO pharma peeler centrifuge as well as for their integration into plant layouts. Our products and services have helped operations achieve record start-ups, increase capacity, improve efficiency, and save money.
State-of-the-art automation
Our ANDRITZ addIQ control system makes sure that you invest your money in the highest standards.
It is based on the latest PLC and HMI technologies, such as Siemens S7-1500 F or Allen-Bradley Compact/Control Logix S, and has an integrated fail-safe system. Using different bus systems (preferably PROFINET), the control system can be linked to the existing DCS.
VPN remote routers allow remote service and remote assistance at the customer's request.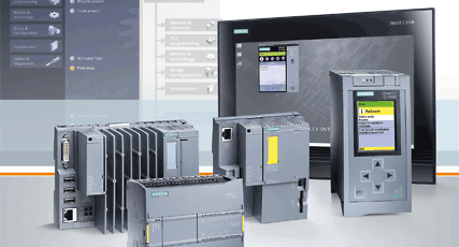 Intuitive operator design for HMI
Our specialists have bundled the latest research findings and fresh insights into a solution package for HMI design. An intuitive operator design ensures full-scale efficiency in operation – from an individual machine up to an entire plant. An overall usability concept takes different requirements of the operating staff into account and, at the same time, enables operators with different levels of experience to fulfill their tasks. Easy-to-read icons diminish barriers of intercultural diversity and minimize translation and training efforts. There is one common HMI design that can be applied for all machines from ANDRITZ SEPARATION.
Safety first
All too often, safety is compromised in the interest of factors such as time and efficiency – or simply due to lack of knowhow. Many safety requirements have to be considered, e.g. HAZOP, risk analysis, the European Machinery Directive, or ATEX. For CE conformity, the machine and the control system must be seen as one unit.
As a one-stop shop, ANDRITZ SEPARATION can provide you with state-of-the-art safety solutions from a single source.
Support for qualification and validation
We have many years of experience in assisting our customers with qualification and validation tasks in compliance with the criteria of good manufacturing practices (GMP) and good automated manufacturing practices (GAMP).
Operator training and certification
ANDRITZ SEPARATION offers special training courses for its automation systems. In order to achieve the best possible results, we use individually tailored training systems that apply order-specific software for machine and process simulations. An ANDRITZ certificate proves that its recipient has successfully completed the training and is qualified to work with the respective system.
Smart access – smart services
The ANDRITZ Remote Service Portal provides easy web access to your machine: Monitoring and full control is ensured by a web browser via smartphone, tablet, or PC. Smart supervision of the current equipment status, peripherals, and machine performance is ensured. Optionally, service requests can be generated via smartphone app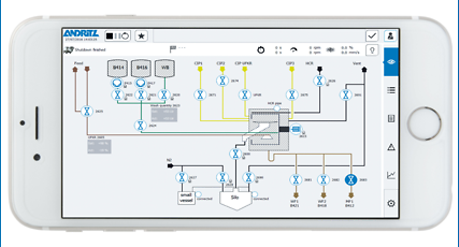 Dimensions and weight
| | | | | | |
| --- | --- | --- | --- | --- | --- |
| Model | L (mm) | W open (mm) | W closed (mm) | H (mm) | Weight (kg) |
| PUREVO 500 | 2,000 | 1,900 | 1,000 | 1,400 | 2,000 |
| PUREVO 630 | 2,090 | 2,250 | 1,530 | 1,540 | 4,200 |
| PUREVO 800 | 2,360 | 2,360 | 1,500 | 1,660 | 6,100 |
| PUREVO 1000 | 2,680 | 2,680 | 1,710 | 1,910 | 9,100 |
| PUREVO 1250 | 3,240 | 3,200 | 2,000 | 2,100 | 13,000 |
Model
Basket diameter
(mm)
Basket length
(mm)
Basket volume
(l)
Filter area
(m2)
Max. g-force
(-)*
Max. speed
(rpm)*
PUREVO 500
500
250
20
0.4
2,030
2,700
PUREVO 630
630
315
44
0.6
2,030
2,400
PUREVO 800
800
400
88
1.0
1,600
1,900
PUREVO 1000
1,000
500
172
1.6
1,290
1,520
PUREVO 1250
1,250
630
340
2.5
1,000
1,200
All technical data are approximate and subject to change without notice
*) Basis: Density of saturated filter cake 1,250 kg/m³ at T = 50 °C