ANDRITZ pumps dewater flooded mine tunnels in South Africa
Powerful ANDRITZ double-suction submersible motor pumps remove 1.5 million liters of water per hour from disused mines in Johannesburg, South Africa.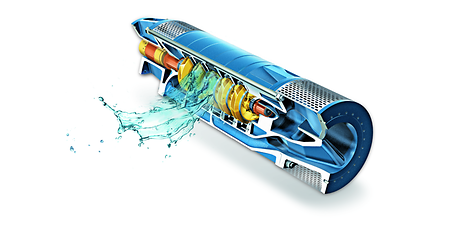 Under the gold rush town of Johannesburg, there are numerous abandoned shafts from the former gold mines. As a result of water entering into these shafts, a lake has formed under the city with heavily contaminated ("acid") water in places. This lake is expanding more and more. Aggressive sulfuric acid forms there in the mining tunnels as a result of chemical reactions between the rain water and minerals like pyrite. As a result, the pH value in the water can reach levels that make it a hazard to man and the environment. 
To counteract this, two ANDRITZ submersible motor pumps were installed in downtown Johannesburg, in the so-called "Central Basin", in order to bring the water level down again.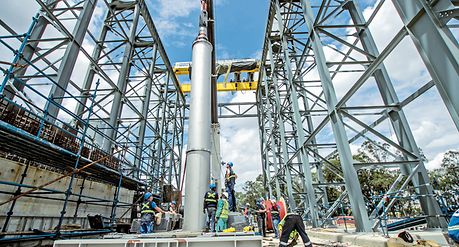 ANDRITZ has a pump series specially conceived for the difficult conditions found in mining – the HDM (Heavy-Duty Mining) series. In order to be able to use these pumps in Johannesburg, certain components had to be protected against the aggressive acid. The engineers at ANDRITZ developed a special, innovative design based on encapsulation of the submersible motors to meet this requirement. As a result of this encapsulation, internal pressure is generated that is higher than the external pressure, thus preventing the water from penetrating and attacking the components inside the motor.
The two pumps – 21-ton giants that are each 15 meters long and one meter in diameter – have been in trouble-free operation since June 2014. Freely suspended from 430-meter long pipes made of duplex steel, they convey 1,500 cubic meters of the acid mine water per hour to the surface and then to an adjacent treatment plant. A third pump is kept as standby.
The South African authorities are setting up two more pumping stations to the west and east of Johannesburg, with the long-term goal of lowering the water level in the flooded mines from the current level of approximately 200 meters to a depth of 1,000 meters. With this move, Johannesburg also wants to regain access to the higher levels to be able to resume mining of gold and gold ores there. ANDRITZ supplied a total of seven pumps to be installed in these two pumping stations.