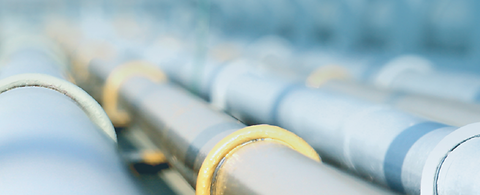 Pumps for a green power grid
ANDRITZ submersible pumps technology is playing a part in projects for renewable energy
Twenty per cent of Europe's energy requirements are to come from renewable sources by 2020, according to the target set by the European Union. The goal is to minimize those ecological, social and health problems caused by the conventional energy sector. To achieve this, fossil fuels such as oil, coal, and natural gas are to be replaced by solar, marine and bio-energy as well as by hydropower and geothermal energy. The plan is to completely restructure the energy supply.
A Nordic power link
One of the latest projects is NordLink. This is the name of the first direct power link between Germany and Norway. As from 2020, it should be possible to send 1,400 megawatts of renewable energy through a 623 kilometer-long power line under the North Sea. This is enough energy to supply around 3.6 million German households. There is a converter station at either end of the power line that converts the power into direct or alternating current as required and feeds it to the respective local distribution network. 
One of the most important socio-economic advantages of NordLink is that the revenue from the distribution capacities of the interconnector is put to good use. This revenue is used to finance other grid projects or to lower electricity prices. Furthermore, the supply guarantee can be strengthened for both grids because surpluses in production can be sold to the other country, respectively.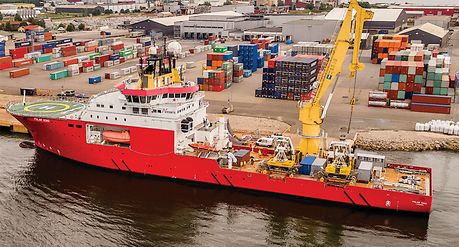 The cable technology needed from Norway to the Danish-German sea border comes from the Nexans Group. It ranks among the world's leading manufacturers of advanced cable and connection solutions for various sectors, such as telecommunication networks, automation, e-mobility or, as in this case, deep-sea power grids. Nexans relies on the ANDRITZ Group's technology for the pumps needed during installation work.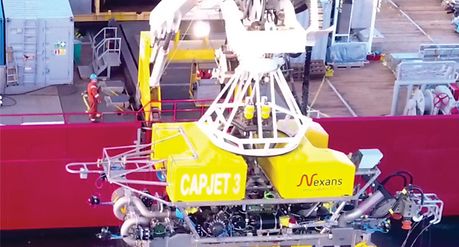 Submersible pumps instead of cable clutter
International technology group ANDRITZ has occupied the top spot in development and manufacturing of custom-tailored pump solutions for over 165 years. The submersible pumps for NordLink come from the subsidiary ANDRITZ Ritz GmbH in Schwäbisch-Gmünd, Germany. It has been a part of the Group since 2010 and patented its first submersible pump technology back in 1930. Today, ANDRITZ multi-stage, single-flow, submersible motor pumps are designed particularly for transporting clean or slightly contaminated and abrasive raw water, as well as mineral water, sea water, industrial water, mine water, and cooling water.
Depending on their field of application, these pumps are made of cast iron, aluminum bronze, or stainless steel. The pumps require no maintenance, and they have a long service life and high operating reliability.
Dredgers are used in order to lay the cables safely on the sea bed. These units are each fitted with two ANDRITZ submersible motor pumps. The pumps are indispensable because they supply the water needed to the various nozzles in the plowshare. This water is sprayed onto the sea bed to soften it so that the cable to be buried can be pressed lightly into it with a roller.
The units have been operating to the customer's full satisfaction since 2017, and ANDRITZ Ritz GmbH has also received orders for spare motors, 11 additional pumps, and a complete set of spare parts. All in all, ANDRITZ has supplied 15 submersible motor pump to NEXANS since the beginning of the project.