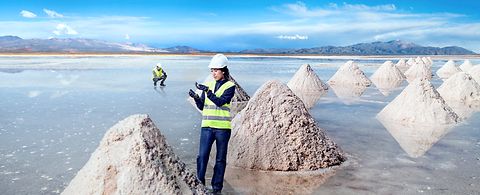 How can you accelerate growth in lithium-powered energy?
Global, Lithium, Aluminum Forming
Did you know: Our full dewatering and drying solutions are used by top global producers to create more than half the world's battery-grade lithium production. Our Schuler machines also help accelerate production, providing lithium battery producers with the world's highest-throughput aluminum battery casing production lines.

As the world's electric car fleet expands exponentially, imagine what this means for lithium producers. At ANDRITZ, this is exactly what we've been doing for more than 50 years. By developing leading batch and continuously operating  filtration centrifuges for superior purity,  moisture content, and energy efficiency. And delivering full dewatering and drying solutions including centifuges, filters, thickeners, and dryers to the top global producers, accounting for half the  world's battery-grade lithium production.
Our solution: 
Full lithium dewatering and drying solutions. Aluminum battery casing manufacturing lines.
Results: 
Highly efficient volume production of battery-grade lithium, and the world's highest throughput production lines for aluminum casing for lithium batteries.
It's just one of countless challenges solved by ANDRITZ Separation – one of the leading separation technology specialists. With the broadest technology portfolio and more than 2,000 specialists in 40 countries, ANDRITZ Separation is a driving force in the evolution of separation technologies, services, and solutions. 
What's your biggest challenge?