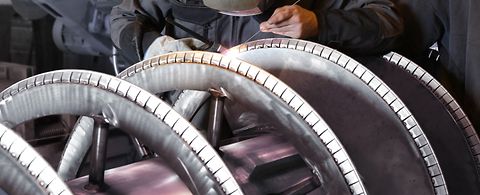 Repairs and upgrades
for superior lifetime performance
Why scrap your existing solid/liquid separation equipment or system if it could be upgraded with the help of the latest R&D? And who better to perform OEM repairs, machine recertifications, and enhancements than ANDRITZ SEPARATION, who engineered many of these systems from the start?

Whether you're looking to optimize performance or extend the lifetime of your equipment, our teams can repair, retrofit, and modify your machines on-site, or in one of ANDRITZ's 70 manufacturing and service locations worldwide. All so you can add years of productivity with the minimum possible downtime.
RheoScan – Real-time, automatic adjustment of polymer dosage to reduce your costs by up to 40%
The ANDRITZ RheoScan is the first optical measurement system on the market that detects the actual sludge viscosity during thickening and dewatering processes. RheoScan then efficiently and accurately adjusts the needed polymer dose to match changing flow rates and sludge conditions. Get more information!
SmartFIX - Reducing maintenance time and costs by around 50%
The ANDRITZ SmartFIX for filter centrifuges is the latest and most innovative filter cloth fastening system on the market today. SmartFIX combines a set of resilient endless tension strips with an endless polymer filter cloth specially designed for the strips. It is ready to replace the existing clamping ring assemblies in most types of filter centrifuges. Get more information!
SmartLIFT – Improving filter press maintenance
The exchange of filter cloths is time consuming and a risky task, especially for larger models of filter presses. Therefore, ANDRITZ SEPARATION has developed SmartLIFT, a hydraulic lifting device to improve filter press maintenance. Get more information!
SmartFEED – Exchanging filter cloths with less downtime
SmartFEED is the feed shoe from ANDRITZ SEPARATION, which reduces the downtime of the filter press enormously. The combination of two single filter cloths (no double cloth connected with barrel-neck needed) with the feed shoe SmartFEED revolutionizes the process of cloth changing and keeps the downtime of the filter press to a minimum. Get more information!
Take advantage of our 150 years of OEM experience gained from an installed base of more than 55,000 machines. Let our global team of solid/liquid separation specialists help you improve safety, reduce costs, and save on power – for a vast number of well-known OEM brands.