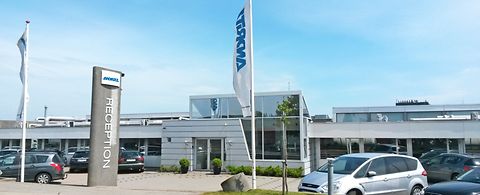 ANDRITZ Feed and Biofuel A/S-Denmark
Together, we make a difference
ANDRITZ Feed and Biofuel in Esbjerg, Denmark is one of the world's leading suppliers of production plants, systems and services for the feed and biofuel production industries. Decades of experience in the feed and biofuel pelleting industries ensures high-quality and state-of-the-art products.

Headquarters of ANDRITZ Feed and Biofuel
The office in Esbjerg, Denmark, serves as headquarters and central administration  of the ANDRITZ Feed and Biofuel division. We employ 891 people globally, of which 135 are based at our headquarters in Denmark.
Products and solutions – single machines and complete pelleting and extrusion plants
At ANDRITZ Feed and Biofuel, we strive to be a complete partner for our customers. Therefore, we offer a simple and efficient "one-stop-shop" concept that means we can supply all key equipment for the feed and biofuel processing lines. We offer:
Complete turnkey projects
Single unit machines
Engineering services
Aftermarket service and support and spare and wear parts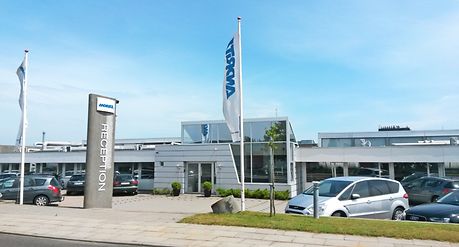 Equipment for feed pelleting and extrusion
Hammer mills for coarse and fine grinding
Mixers
Pellet mills
Extruders
Conditioners
Expanders
Micro fluid systems
Vacuum coater
Process control systems
Pellet mill dies and rolls
Equipment for biomass and waste pelleting
Hammer mills
Pellet mills for biomass and waste pelleting
Process control systems
Pellet mill dies and rolls
Focus on research and development
ANDRITZ Feed and Biofuel is committed to a substantial R&D effort in order to lead the industry in technological innovation. It is a key factor of our vision to keep providing the best quality equipment to our customers, ensuring easy production, cost-efficiency, and high-quality results. We are consistently developing and improving advanced products, so that our customers will continue to see the benefits of buying our equipment.
Strong global presence
ANDRITZ Feed and Biofuel is represented all over the world and has offices in Australia, Brazil, Chile, China, France, Germany, India, Mexico, Netherlands, United Kingdom, USA, Venezuela and Vietnam. We are further represented locally by agents and distributors in several other strategic locations.
Vision
At ANDRITZ Feed and Biofuel we are striving for a Safety and Quality culture without accidents, product or process deviations.
Mission
It is the mission of the Global QHSE department of ANDRITZ Feed and Biofuel to operate in compliance with International and ANDRITZ Standards in all our areas of responsibility.
We achieve this by having a Global team of highly motivated and trained Managers and experts.
Safety Management
Reduce AFR over 1 day every year by 30% (starting from 3,8 in 2021)
Maintain the Safety procedure according to ISO45001
Certification of ISO45001

Change from reactive to proactive approach
Non-Conformity Report Management
Prioritized to minimize the impact at Customers
Measure lead time to close NCRs
Less than 1,0% Warranty of Sales

Measure number of open NCRs
Quality Management System
Certification of ISO9001 in Esbjerg
Yearly audit plans
SQCDM board implementation

Global Matrix ISO9001 certification for 2024
Quality Assurance and Inspection
Quality Assurance plan for key suppliers
Maintain the Inspection characteristic ( PQIP status)
Improvement plans from suppliers for each NCRs 
Manufacturing and Quality Supervision
Request improvement plans from HUB's (Turn around the responsibility)
Use the NCR system for the findings
Create global F&B SQDCM
Environmental Management
Maintain the procedure for Environment in regard of ISO14001
Let the customers and authorities be the driver of the requirements
Follow ANDRITZ Group KPIs 
ANDRITZ FEED & BIOFUEL A/S | Esbjerg