June 2021: Thac Ca 2 and Dong Sung, Vietnam – PACs signed and units handed over to customer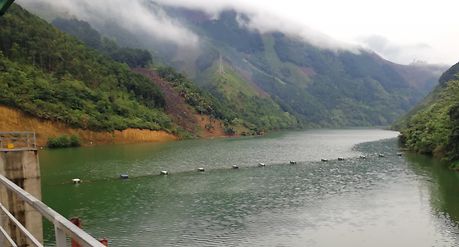 The ANDRITZ commissioning teams in Vietnam have now put two significant privately-owned projects into commercial operation in close succession – the hydropower plants Thac Ca 2 and Dong Sung.
In 2017, ANDRITZ signed the contract with Xuan Thien Yen Bai Co., Ltd. for the supply of the complete electro-mechanical equipment for both projects.
The scope of contract for each plant comprised the supply of one Bulb turbine-generator unit (16 MW  installed output for Thac Ca 2 and 20 MW for Dong Sung), governor, excitation system, control and protection system, BOP, transformer, diesel generator, auxiliary equipment and technical services for the client.
During the execution phase, ANDRITZ encountered some problems which were not expected such as power house flooded, around one and a half year suspension of the project implementation, troubles with interim storage, damaged winding insulation due to third-party faults, and last but not least the breakout of the worldwide Covid-19 pandemic. Especially during breakout of Covid-19, there were always new policies imposed by the local authorities to restrict travel which had significant impact on mobilization of supervisors and commissioning engineers. Most of the engineers were sent on-site mid of last year and have not returned home even during holidays for almost one year.
Thanks to the great efforts and excellent work of our on-site staff the 72-hours reliability runs of both units were successfully completed in April (Thac Ca 2) and May 2021 (Dong Sung), the Preliminary Acceptance Certificates (PACs) granted and the units were accordingly handed over to the customer for commercial operation.
The customer, Xuan Thien Group, is a private company conducting business in infrastructure and investments in power plants, among other industries, and is well-known in Vietnam. ANDRITZ has four more hydropower projects under execution with this customer – Thac Ca 1, Song Lo 6, Song Lo 3 and Song Lo 5. The hydropower plants Thac Ca 2 and Dong Sung were the first of the customer's low-head hydropower assets to be commissioned and put into commercial operation. This success is encouraging news and enhances not only the customer's confidence in ANDRITZ but has also a positive impact on implementation of the remaining projects and the morale of our on-site personnel.
Technical details of Thac Ca 2:
Total output: 16 MW
Scope output:1 x 16 MW / 17.4 MVA
Head: 13.1 m
Speed:125 rpm
Voltage: 6.3 kV.
Technical details of Dong Sung:
Total output: 20 MW
Scope output: 1 x 20 MW / 21.8 MVA
Head: 20 m
Speed:150 rpm
Voltage: 10.5 kV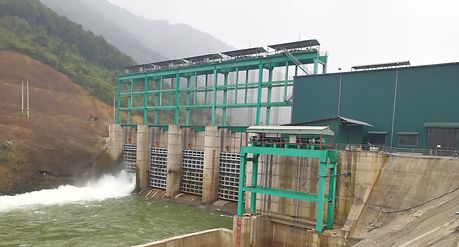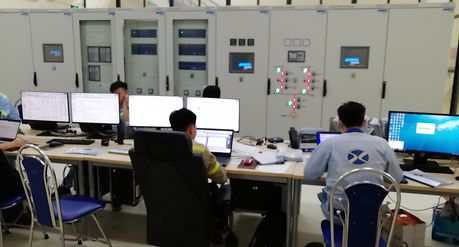 ---------
May 2021: HPP Thuong Kon Tum, Vietnam - Successful commissions of Pelton units with the highest head in Vietnam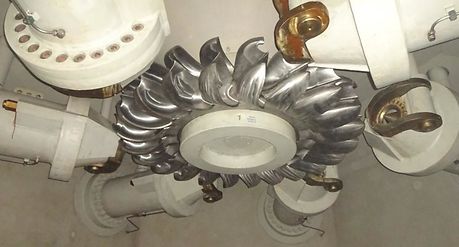 The Vinh Son – Song Hinh Hydropower Joint Stock Company entrusted ANDRITZ with the complete electro-mechanical works of the project for the Thuong Kon Tum hydropower project in Vietnam in September 2012.
The contractual scope for ANDRITZ involved model testing, design, procurement, manufacturing and supply of all equipment including mandatory spares for the electro-mechanical works. ANDRITZ was also entrusted with the supervision of works.
The detailed scope of works included two 110 MW high-head vertical shaft Pelton turbines, two digital governors, two main inlet spherical valves, two 129.41 MVA generators, 44 MVA transformers, 220 kV switch yard equipment, 245 kV SF6 CB, 220 kV XPLE cable, 400 V auxiliary T/R, switch gear equipment, excitation system, control and protection system, HVAC, fire-fighting system, EOT crane, cooling water, drainage and dewatering system, LP and HP compressed air system, life water supply system, life sewage disposal system, water treatment system, 245 kV Gas Isolated bus bar system and telecommunication system.
The project got extended from its original 34 months construction timeline primarily due to issues related to other contractors. ANDRITZ's contractual obligations were timely completed. ANDRITZ deployed the commissioning team amid the pandemic at the end of 2020. Despite the straining situation, the commissioning team overstretched their stay to support the project and the customer. Though, the commissioning of the project could be completed as scheduled in the first quarter of 2021. The plant was put successfully and in time into commercial operation.
Supply, erection, automation and commissioning of the high pressure compressed air system for the underground air-cushioned surge chamber posed some challenges. This system is not so common, and the integration and synchronization of various involved equipment required precision and expertise, both delivered by ANDRITZ effortlessly.
The client issued the provisional acceptance certificates to ANDRITZ after all vital parameters were fulfilled on in March 2021 resp. in April 2021 for the second and final unit.
This order shows not only the expertise of ANDRITZ in the high-head Pelton segment, but also the dedication of our engineers and commissioning officers for their work.
Technical Details:
Total output: 220 MW
Scope:  2 x 110 MW / 129.41 MVA
Head: 879 m
Voltage: 13.8 kV
Speed: 600 rpm
Runner diameter: 2,045 mm