More Events
Asia 2014 - HydroVision - Power-Gen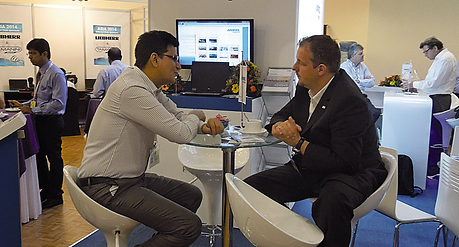 Asia 2014 - Colombo, Sri Lanka
The conference focused on the needs, priorities and future plans of Asia. ANDRITZ HYDRO participated with six paper presentations, a booth and was co-host for the Welcome Conference Dinner. 

Our presentations were focused on successful Asian projects, turbine technology, coating and the new unified product platform for protection, excitation and synchronizing - HIPASE. ASIA 2014 once again underlines ANDRITZ HYDRO's strong position in the Asian hydropower market.


HydroVision Russia
ANDRITZ HYDRO participated at HydroVision Russia the fifth time. Together with ANDRITZ PULP & PAPER and our turbo generator business unit we promoted our portfolio to the Russian market with a booth and four paper presentations.


POWER-GEN Africa
Together with the co-event DistribuTech more than 2,300 people from 69 countries worldwide participated. The event activities of ANDRITZ HYDRO included a session chair, four technical paper presentations and a booth.