Muskrat Falls - Powerhouse and hydromechanical spillway equipment for Canada
In December 2013 Nalcor Energy awarded a contract to ANDRITZ HYDRO for the supply and installation of the Muskrat Falls powerhouse and spillway hydromechanical equipment.
The Muskrat Falls hydroelectric development project includes a generating station, located on the lower Churchill River, approx. 35 km west of Canadian Happy Valley-Goose Bay in Labrador, as well as more than 1,500 km of transmission lines and associated infrastructure.

The Churchill River is a significant source of renewable, clean electrical energy; however, the potential of this river has not been fully developed yet. The existing 5,428 MW Churchill Falls generating station, which began producing power in 1971, uses about 65% of the river's generating capacity. The remaining 35% are located at two sites on the lower part of the river: Muskrat Falls and Gull Island.

ANDRITZ HYDRO's scope of supply for the Muskrat Falls project includes all mechanical, electrical and other associated hydromechanical equipment, required for the spillway, the intake and the draft tube. The equipment and facilities consist of fixed wheeled gates, bulkhead gates, trashracks, stoplogs, fixed and mobile wire rope hoists, hoist towers and buildings, trash cleaner and selective electrical and mechanical auxiliaries. The scope of this contract is one of the largest in the world, with deliveries totaling 9,000 tons. Due to this large volume, the major fabricated components will be supplied by global

ANDRITZ HYDRO locations in Canada, Europe and China. ANDRITZ HYDRO is committed to achieving all of Nalcor Energy's objectives regarding safety, environment, schedule compliance and quality of materials and workmanship. To that end, quality surveillance activity is reinforced at all manufacturing locations.

Fabrication and delivery will start in early 2014 with the first stage embedded items followed by staged deliveries. This is the second contract for ANDRITZ HYDRO with Nalcor Energy, having earlier been awarded the order to supply four 206 MW Kaplan turbines and generators (Hydro News 23).

ANDRITZ HYDRO is pleased to have secured this contract, which represents a significant step in broadening its portfolio of products on the Canadian market.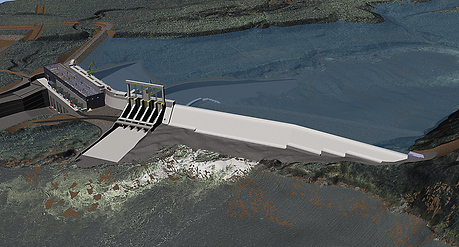 TECHNICAL DATA
| | |
| --- | --- |
| Total weight: | 9,000 tons |
| 8 draft tube exits |   |
| 5 spillway bays |   |
| Roller gates: | 10.5 m x 23 m               |
| 12 intake channels |   |
| Roller gates: | 6.5 m x 20 m |