Azerbaijan - Şemkirçay
In April 2014, the Turkish construction company Cengiz Insaat and ANDRITZ HYDRO Turkey signed a follow-up order for the Semkirçay hydropower plant in Azerbaijan.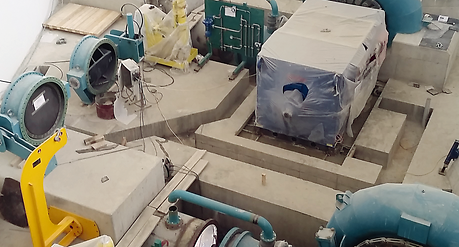 The scope of the contract includes design, manufacturing, and transportation of electrical power systems, as well as commissioning and installation of all electromechanical equipment.

In September 2011 ANDRITZ HYDRO won its first order from Cengiz Insaat for the design, manufacturing, supply, transportation, site installation supervision, and commissioning of six 6.07 MW horizontal Francis turbines and six 6.18 MVA synchronous generators for HPP Semkirçay. The consortium, led by ANDRITZ HYDRO and Indar, won the turnkey contract against international competition.
TECHNICAL DATA           
| | |
| --- | --- |
| Output: | 36.5 MW |
| Voltage: | 10.5 kV |
| Head:    | 125.98 m    |
| Speed: | 600 rpm |
| Runner diameter: | 625 mm |