Illerstufen V–VII, Germany
ANDRITZ HYDRO Germany has received an order from Bayrische Elektrizitätswerke GmbH (BEW) for the electromechanical equipment for three hydropower stations on the Iller River.
The scope of supply consists of three Bevel Gear Bulb turbines, each with a runner diameter of 1,600 mm, synchronous generators and a large electrical package, including erection and commissioning.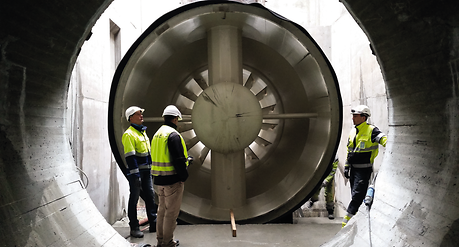 BEW owns five run-of-river power stations along the Iller River, among these are the Illerstufe V (Fluhmühle), the Illerstufe VI (Legau) and the Illerstufe VII (Maria Steinbach). All these hydropower stations were built between 1938 and 1944 and are equipped with Straflo turbines – single regulated axial turbines with a fixed runner position and integrated generator pole shoes located on the outer rim of the runner blades.
Due to a change in the operation license, the decision was made to replace one of the existing Straflo turbines at each location with a double-regulated Bevel Gear Bulb turbine. The new turbines are able to work continuously under part-load conditions with good efficiency values.
The handover of the turbine equipment for the three locations is planned to take place in three stages, at the end of the years 2016, 2017 and 2018.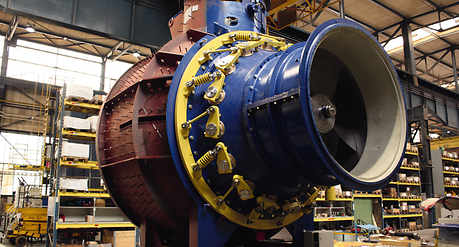 TECHNICAL DATA
| | |
| --- | --- |
| Illerstufe V – Fluhmühle: |   |
| Output: | 1.07 MW |
| Voltage: | 3.1 kV |
| Head: | 8 m |
| Speed: | 300 rpm |
| Runner diameter: | 1,600 mm |
| Illerstufe VI – Legau: |   |
| Output: | 1.17 MW |
| Voltage: | 3.1 kV |
| Head: | 8.65 m |
| Speed: | 300 rpm |
| Runner diameter: | 1,600 mm |
| Illerstufe VII – Maria Steinbach: |   |
| Output: | 1.11 MW |
| Voltage: | 3.1 kV |
| Head: | 8.85 m |
| Speed: | 300 rpm |
| Runner diameter: | 1,600 mm |