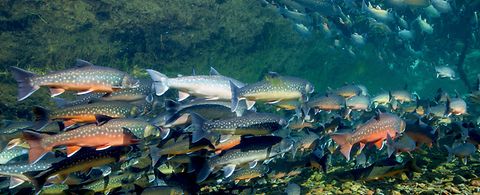 In the Flow of History
Dnipro 1, Ukraine - New Project
Ukraine's state-owned PJSC Ukrhydroenergo (UHE), the country's largest hydropower company, has signed a contract with ANDRITZ HYDRO for the rehabilitation of three units at its Dnipro 1 hydropower plant. Awarded in late December 2016, this contract sees ANDRITZ HYDRO become the first European contractor for a large hydro rehabilitation project in Ukraine.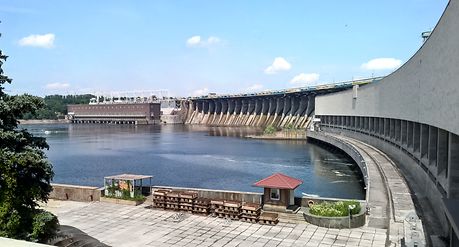 At the lower reaches the Dnieper River is filled with rapids, which made it difficult to navigate until the 19th century. Today, this is the location of the Dnipro hydropower plant (also called Dnieper HES-1). The plant spans the Dnieper River like a bridge between the cities of Zaporizhia and Dnipro­petrovsk.
This famous hydropower plant was the first power plant of the Dnipro cascade and was originally built by the former Soviet Union in 1932. Until 2016 this power plant was named after Lenin. In 2016, the Ukrainian government renamed it after the homonymous river.
During World War II the Dnipro plant was severely damaged. After rebuilding, it was re-commissioned in 1949. Some decades later, HPP Dnipro was extended with a second power house (Dnipro 2) on the left riverbank. At the time of its construction – at over 800 m length and more than 60 m height – the Dnipro dam was the largest in Europe. Even today, considered jointly with HPP Dnipro 2, with a total of 18 units and an installed capacity of more than 1,500 MW, the Dnipro plant is still the largest hydropower plant in Ukraine. Now, after more than 70 years of operation, the existing generation units of HPP Dnipro 1 have to be replaced with new units, providing higher output, efficiency and reliability.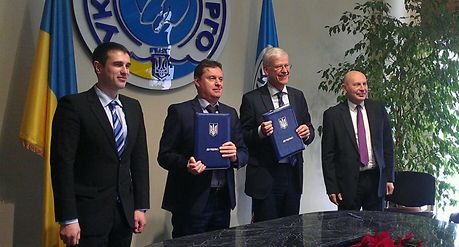 ANDRITZ HYDRO is responsible for the rehabilitation of three Francis turbines and generators – units #1, #2, #3 – including dismantling of the existing equipment and supply, installation, and commissioning of the new units.
One of the technical highlights of this contract is the implementation of an umbrella design while keeping the historic upper bracket, which will be refurbished and brought into position but without function. According to the contract time schedule, the last unit should be finished and commissioned in late 2021.
This order represents not only a very important step into the Ukrainian hydropower market, but the partial preservation of important historical artifacts at the same time. Rehabilitation of this historic and prestigious hydropower plant making it fit for the future is not only an interesting but also a complex challenge.
TECHNICAL DATA
| | | |
| --- | --- | --- |
| Total output: |  1,500 MW |   |
| Scope: |   3 × 75 MW | |
| Voltage: |  13.8 kV | |
| Head: |  35 m | |
| Speed: |  83.30 rpm | |
| Runner diameter: |  5,740 mm | |