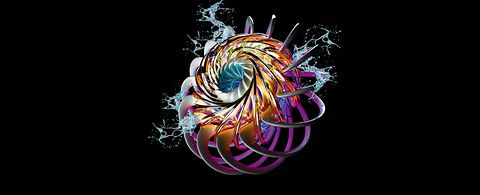 Technology is just a woman's job
Women in engineering at ANDRITZ Hydro - Interview
At ANDRITZ Hydro, we recognize the importance of gender diversity and inclusion in the workplace. As a leading provider of innovative solutions for the hydro industry we understand that our success depends on talent, creativity, equality, and the unique perspectives of all our employees. One of the key areas where we have been successful in promoting gender diversity is in our R&D departments. HydroNews talked with Sigrun Fugger, Hydraulic Project Engineer at ANDRITZ Hydro Austria, about her passion for hydropower and what it is like to forge a successful career in a 'man's' world.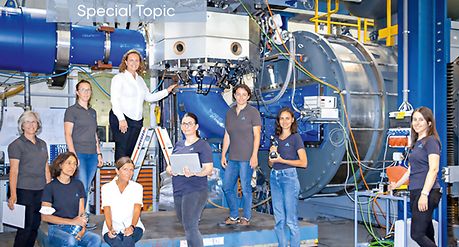 "It is particularly important to stay focused and accept every challenge."
Sigrun, please tell us about how you joined the hydro business and why hydropower and especially R&D work is your passion.
Sigrun - When I first visited the hydraulic test stand in Linz 15 years ago, I had no idea that this would be the beginning of my passion for hydropower. The model turbines fascinated me immediately and I was excited about the possibilities that arose from this technical field.

Right after graduating from university, I was lucky to get a job with ANDRITZ Hydro and to take part in important projects. It is particularly important to stay focused, constantly push limits, and accept every challenge. It takes a lot of dedication and perseverance, but it's incredibly rewarding seeing the results of your work at the end of a project. In contractual projects, having a satisfied customer is of paramount importance.

I was fully accepted and respected from day one in the R&D department. Overall, the decision to work in a technical profession was the best decision of my life. It is inspiring to see how everyone contributes towards a common goal.  

This strong bond between colleagues is beautiful to see. Therefore, I took the opportunity to interview some of my female colleagues and share their insights too.
Can you describe a project that you're particularly proud of in your hydropower career?
Maria – There are many projects and accomplishments that I am proud of. Each time you manage to finish a model testing campaign together with your team — starting with a design phase and closing with an acceptance test — makes me proud. The happy expressions on the faces of the clients is especially rewarding.
Caroline – I have had the opportunity to work on many challenging projects during my career. The project I am particularly proud of is one which required a lot of development in the laboratory over two years. It gave me the chance to engage with the customer and explore challenging questions, deal with unexpected results and prepare contingency plans. These were all fundamental skills I have used many times since in my work!
What message would you like to share with other women considering a career in hydropower?
Maria – Stay confident in yourself and keep on going with enthusiasm. Hydro is such an amazing and incredible business! 
Caroline – From a R&D point of view, the work is challenging, creative and requires a rigorous approach to solving problems. Women in hydro are treated equally and are successful!
What inspired you to pursue a career in hydropower, and how did you get your start in the industry?
Magdalena – I studied technical mathematics in Vienna and during my master's degree I had the opportunity to do an internship at the hydraulic lab of ANDRITZ Hydro in Linz. I was fascinated by the variety of topics that are linked to design, manufacturing, and installation of turbines. At that time, I already appreciated that hydropower is an international enterprise. Working in hydropower allows us to get to know people with different languages and different cultural backgrounds.

2022 Women of Waterpower Award
Christine Monette, Team Leader & Principal Engineer, ANDRITZ Hydro Canada
We are proud to highlight that our colleague Christine Monette received the 2022 Woman for Waterpower award from the Women in Renewable Energy (WiRE) network. This award was given in recognition of Christine's exceptional contribution to technology development in the hydroelectric field. 
   
How did you feel about being awarded the Woman of Waterpower for 2022?
I was very honored and surprised that this award was presented for a technical role. The fact that I received it is recognition of all the people working on the technical solutions for our hydroelectric equipment. It recognizes that we need talent in technical positions, not only in management.

Sigrun Fugger
Hydraulic Project Engineer ANDRITZ Hydro Austria
   
After earning a degree in mechatronics from the Johannes Kepler University in Linz, Austria, Sigrun Fugger started working directly at ANDRITZ Hydro in the R&D department in Linz. She is now working as a hydraulic project engineer while expanding her knowledge working on a MBA degree at the University of Applied Sciences in Steyr, Austria. She lives in Oftering, is in a partnership and has three children.
   
Caroline Marchand
Group Leader Hydraulic Project Management/Development, ANDRITZ Hydro Austria
   
Maria Collins
Lead Engineer - Hydraulic Project Engineering, ANDRITZ Hydro Austria
   
Magdalena Neuhauser
Head of Hydraulic
Laboratory, ANDRITZ Hydro Switzerland