Yusufeli - Turkey
In September 2016, ANDRITZ HYDRO received a second order within 12 months for the Yusufeli hydropower project in Turkey. The actual order for three generating units and related equipment follows the recent contract for supplying the intake structure, as well as the penstock and gates (see Hydro News 29).
The impoundment facility is located on the Coruh River in northeastern Turkey, upstream of HPP Borcka, HPP Muratli and HPP Deriner. As with these plants, HPP Yusufeli is also owned by General Directorate of State Hydraulic Works (DSI), a company which has already been working with ANDRITZ HYDRO on these projects, as well as HPP Ermenek and HPP Ilısu, which is currently under construction.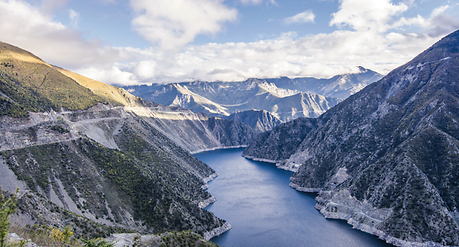 The new Yusufeli hydropower plant will have a total installed capacity of 558 MW with a rated head of 191 m and a rated discharge of 107 m3/s. The dam is of double-curvature type and with a height of 270 m from its foundation it will be Turkey's highest and the third highest dam of this kind worldwide.
ANDRITZ HYDRO's contractual scope of supply comprises design, supply, installation, and commissioning of three generating units, each with a rated output of 186 MW, main power transformers, 380 kV switchyard equipment (AIS and GIS), and all relevant control, measuring, and protection equipment.
With the focus on providing premium quality under challenging circumstances, handing over of the units is planned within 33 months after commencement of the works. ANDRITZ HYDRO takes advantage of its international structure, so several ANDRITZ HYDRO companies in close co-operation are contributing with supplies to the plant. ANDRITZ HYDRO Turkey will provide major equipment for the electrical power system and installation services. ANDRITZ HYDRO Austria will supply the turbine runners and governors. The generator and automation system will be provided from ANDRITZ HYDRO India, whereas the turbine auxiliary systems as well as main inlet valves will be supplied by ANDRITZ HYDRO China.
The start of commercial operation is scheduled for the third quarter of 2019. This contract strengthens again ANDRITZ HYDRO's leading position in the Turkish hydropower market.
TECHNICAL DATA
Output
3×186 MW
3×203 MVA
Head
191 m
Speed
214 rpm
Runner diameter
3,500 mm
Av.annual production
1,888 GWh