VERBUND Grenzkraftwerke - Modernization of five run-of-river hydropower stations on the rivers Inn and Danube
ANDRITZ HYDRO has been awarded a contract by the binational VERBUND Hydro Power AG subsidiaries Österreichisch-Bayerischen Kraftwerke AG and Donaukraftwerk Jochenstein AG to renovate the secondary technology in five run-of-river hydropower stations on the rivers Inn and Danube.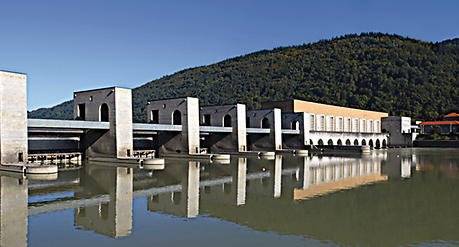 All five of these hydropower stations (Oberaudorf-Ebbs, Braunau-Simbach, Schärding-Neuhaus, Passau-Ingling and Donaukraftwerk Jochenstein) are operated by VERBUND Tochter Grenzkraftwerke GmbH. It is one of the largest contracts for secondary technology awarded to ANDRITZ HYDRO Automation to date.

The project's scope includes the following secondary equipment for:
19 generating sets (Kaplan or bulb turbines) including turbine governor
24 gates
three 110- and 220-KV substations
remote stations
water management
auxiliaries reservoir simulator.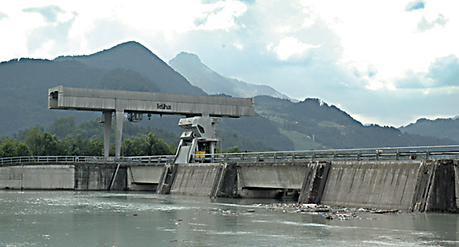 The NEPTUN concept will be implemented at all sites, because it is based on international standards. As a result it ensures an integrated system with a consistent structure for communications, and provides the basis for future expansion. In 2012, a redundant SCADA system (250 SCALA) was installed as part of the modernization project. The new control system will now be implemented in phases without interruptions in operation.
In future, the water management system and units and gate operation will be handled by the new controller. In case of an emergency a level controller takes over the water management. In addition to the modernization of block and generator protection systems, a backup protection system with auxiliary power supply is also to be installed. Furthermore, the consumption protection systems at Oberaudorf-Ebbs, Braunau-Simbach, and Jochenstein hydropower stations will be renovated.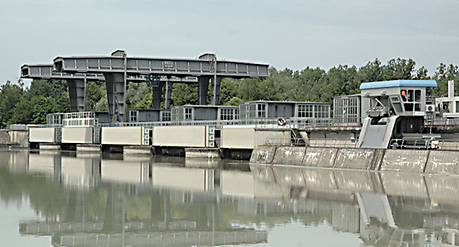 The shared concept of voltage compounding for the 19 thyristor compound excitation devices (THYKO) guarantees, by virtue of voltage addition in the directcurrent circuit, the greatest level of dynamic control during normal operations as well as a sufficiently high sustained short-circuit current were a fault to arise.

In order to optimize the system and for training as well as simulation, a simulator with a variety of reservoir models will also be provided. One of the major challenges is advance planning with regard to staffing, since the systems will be put into operation at up to three hydropower station sites at the same time. The entire project is scheduled to end in early 2018.

Technical data
| | |
| --- | --- |
| Oberaudorf-Ebbs: | |
| Output: | 2 x 32.6 MW |
| Voltage: | 110 kV |
| Gate: | 3 |
| Braunau-Simbach: | |
| Output: | 4 x 25.6 MW |
| Voltage: | 110 kV |
| Gate: | 5 |
| Schärding-Neuhaus: | |
| Output: | 4 x 24.8 MW |
| Voltage: | 220 kV |
| Gate: | 5 |
| Passau-Ingling: | |
| Output: | 4 x 24.3 MW                 |
| Voltage: | 110 kV |
| Gate: | 5 |
| Jochenstein: | |
| Output: | 5 x 28.9 MW |
| Voltage: | 220 kV |
| Gate: | 6 |