Djoué - Clean energy for green Brazzaville, Republic of Congo
In March 2013, the Délégation Générale aux Grands Travaux (DGGT), a national construction commission created to watch the development of Congo's energy infrastructure, awarded ANDRITZ HYDRO Switzerland a contract for the rehabilitation and modernization of HPP Djoué.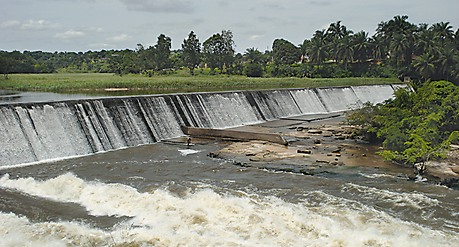 Located less than 10 km from its city center, HPP Djoué supplies Brazzaville with electricity and is strategically important for electricity generation in the Republic of Congo. The complex is built at the Djoué River, a tributary of the majestic Congo River, on which roaring waterfalls can be admired from the roof of HPP Djoué's surge tanks. The water intake is built inside a gravity dam to retain water for Brazzaville's electricity demand.
Since its construction in the 1950's, there have been many incidents. The most important one occurred in April 2007, when the power plant was flooded up to the control room. The hydropower plant has been out of operation since then and the tailrace channel is totally silted up due to the Congo River's biannual floods.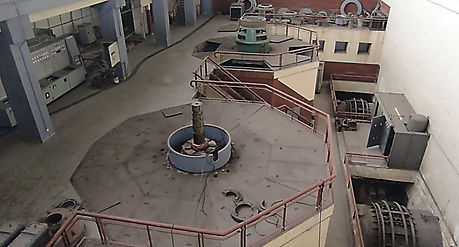 The main challenge of this project is to increase the plant's power output by over 25% to reach 2 x 9.06 MW at the generator terminals by raising flow rate and installing new turbine-generator units equipped with propeller- type turbines. Speed and voltage governors will be replaced, dam equipment, particularly the water intake valve machinery, will be rehabilitated and the turbine main inlet valves will be replaced. Other powerhouse equipment - such as the overhead crane, the drainage and cooling systems - will be renewed. Furthermore, particular care will be given to the hydraulics, the headrace tunnel, and the penstocks, in order to guarantee the safety of the entire complex. The surge tanks will also be restored. Finally, another very important aspect will be the installation of a new control room, replacing the old one that was destroyed by the flooding. The switchyard will be entirely rehabilitated in order to better distribute the power throughout the network of the Republic of Congo .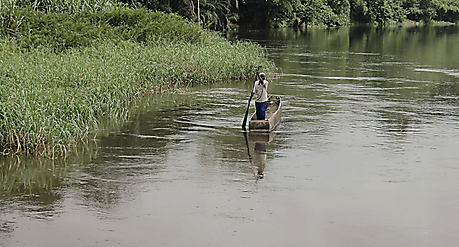 he duration of the contract is 22 months for the commissioning of the first unit and 25 months for the second unit. This important rehabilitation project will give this strategic power plant a new lease on life and will supply the Congolese population with a clean source of renewable energy.

| | |
| --- | --- |
| Technical data | |
| Output: | 2 x 9.06 MW                   |
| Head: | 24.09 m |
| Speed: | 300 rpm |
| Runner diameter: | 2,420 mm |