Santo Antônio - 12 bulb type units and 24 excitation systems for Brazil's fifth largest hydropower plant
HPP Santo Antônio is located in western Brazil at the Madeira River in the state of Rondônia.
With an installed capacity of 3,150 MW Santo Antônio is one of the largest hydropower plants in the world equipped with 44 bulb type units. Currently these units are the biggest bulb type generators ever built with a generator stator diameter of 9,700 mm.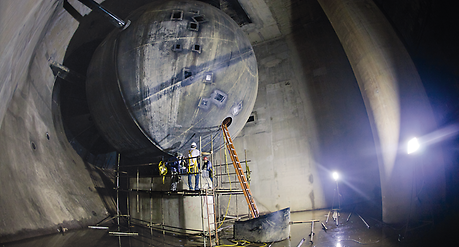 In 2012 the supplier consortium GICOM, formed by ANDRITZ HYDRO, Voith Hydro, Alstom Power, Bardella and Siemens, handed over the completed first of four powerhouses with eight units each to the client SAE (Santo Antônio Energia).

ANDRITZ HYDRO highlights of 2012 and 2013:
First bulb generator unit of Madeira hydroelectric complex starts commercial operation on 30 March 2012. Unit 4 was handed over to SAE and the local authorities ANEEL by ANDRITZ HYDRO, 90 days ahead of contract schedule.
With the handover of unit 8 the first power house (right bank) was completed in December 2012.
In January 2013 unit 11 was handed over 13 days ahead of contract schedule.
In February 2013 ANDRITZ HYDRO completed 50% of the erection with the lowering the runner for unit 19.
In September 2013 the main erection of powerhouse four started with the lowering of the stay column parts of unit 33.
Unit 24, located in powerhouse three, will be handed over at the beginning of January 2014, 50 days ahead of contract schedule.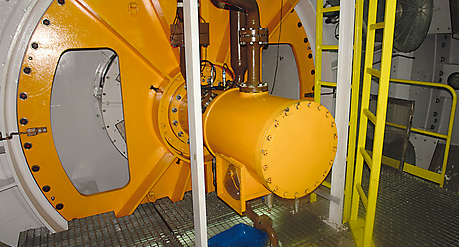 By accepting the responsibility for contracting unit 38 instead of the originally agreed unit 41, ANDRITZ HYDRO once again showed their strong support for the supplier consortium GICOM. This change of one unit between Alstom Power and ANDRITZ HYDRO was only possible due to strictly meeting the tight fabrication schedule by ANDRITZ HYDRO Inepar and their manufacturing partner IESA.

At this point we want to mention the client's written commendations for ANDRITZ HYDRO Inepar site team for their efficient and competent support of the bulb units and the 4,000 and 8,000 hour revisions.
Recently SAE received the permission from the local authorities to incr ease the installed capacity from 3,150 MW to 3,568 MW, which will lead to a total number of 50 installed bulb units at HPP Santo Antônio. The commercial operation of the additional six units is planned for 2016.
| | |
| --- | --- |
| Technical data | |
| 5-blade turbine: | 6 x 71.05 MW |
| 4-blade turbine: | 6 x 74.8 MW |
| Generator: | 12 x 82.25 MVA |
| Voltage: | 13.8 kV |
| Speed: | 100 rpm |
| Rotor diameter: | 7,500 mm |
| Stator diameter: | 9,700 mm |